Event Information
Refund Policy
Refunds up to 7 days before event
90-minute Live Webinar reviewing the top 5 eligibility errors when qualifying tenants for affordable housing. LIHTC, HUD, HOME and RD
About this Event
Conquering Common Eligibility Errors in Affordable Housing - Top 5 Eligibility Errors
We All Make Mistakes
Whether you are responsible for preparing tenant files or reviewing tenant files, chances are you have made a mistake in determining household eligibility. Mistakes will happen; the key is to learn from mistakes made. The goal is to avoid making errors that result in the admission of an ineligible household or the rejection of an eligible household.
Common Eligibility Errors
At US Housing Consultants, our fantastic team of compliance analysts audit thousands of tenant files a month, and regardless of the housing program, there are 5 common eligibility errors that we repeatedly see in tenant files.
During this 90-minute webinar, Amanda Lee Gross will review the top 5 eligibility errors made when qualifying tenants for affordable housing. She will provide valuable guidance on how housing professionals can avoid making these errors and correcting these errors when they do occur.
Learn to Conquer Compliance
By fully understanding the requirements determining household eligibility, housing professionals are better equipped to ensure that affordable housing is only made available to those that truly need affordable housing based on annual household income.
All attendees will receive:
A certificate of attendance
A content-rich PDF manual
Interactive live webinar training where you can ask questions and participate in knowledge checks and polls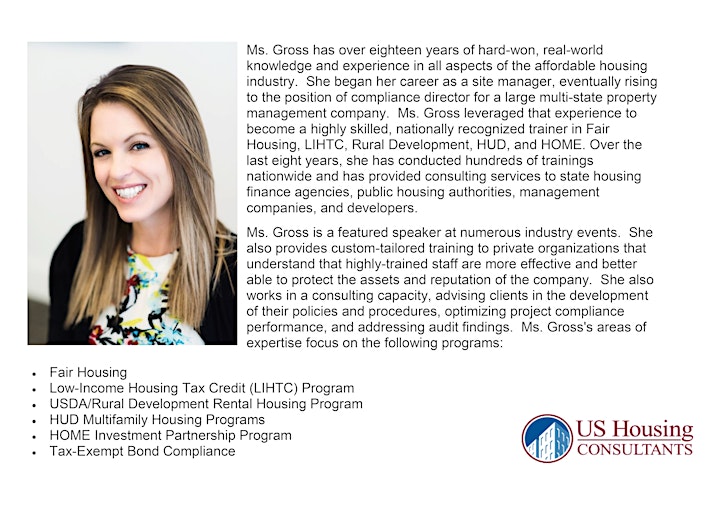 I have had the great pleasure of leading a couple of classes with Amanda Gross – trainer extraordinaire at US Housing Consultants. I feel like I'm the "old guard" watching over the "rising star". Amanda's classes are full of necessary information and she has a knack for delivering compliance content in such a way that you will never be bored. If you get a chance, be sure to join her for a LIHTC or HUD training.--- Mary Ross
Date and Time
Location
Refund Policy
Refunds up to 7 days before event