About this Event
Join us for a great night of laughter for an even greater cause!
All funds raised on the night will go to NorCal SCI, a Bay Area-based 501c3 non-profit that will be there on the night. Their mission is to ​provide information, resources and various programs allowing people affected by or living with a Spinal Cord Injury/Disorder in Northern California to thrive and live productively.
We have hilarious headlining comedians, alcohol and beautiful people. What more could you want?
Please get tickets early to avoid disappointment. We have sold out in advance for all our previous shows.
Doors open at 7pm, show starts at 7.45 and runs until 9.30pm. The event space is ADA compliant and wheelchair accessible.
Join us and invite your friends for a great night of laughter and community with a very special group of people and an even more special cause.
Show is 21's and up.
Comedians performing on the night: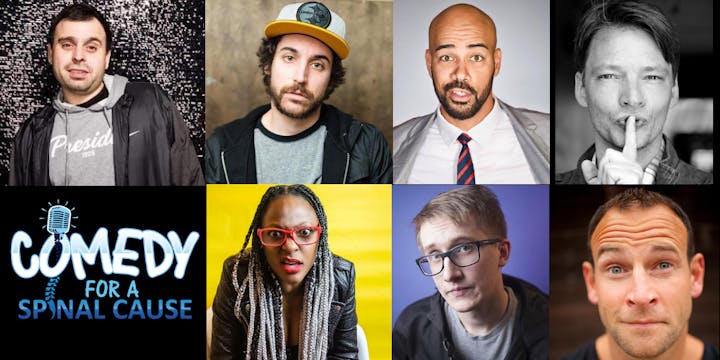 Born in Boston, Ellis Rodriguez is by far the funniest of nine children raised by loving immigrant parents from Panama. He has performed in filmed showcases including Shaq's All Star Jam, Laugh's On FOX, and Comedy Central & Kevin Hart's Hart of the City and is the 2017 winner of the San Francisco Comedy Competition.
Joe Klosek: Raised in the midwest, but now a confirmed San Francisco resident, Joe brings a refreshing look at life through the eyes of a class clown who read too much. Joe is a square peg in a round hole kind of world. His high energy stories have earned him spots on Comedy Central, Stand Up Thursday Night Live and KRON Channel 44. Most recently he appeared on Comedy Central's "Live at Gotham."
Mark Smalls is a stand up comic out of Northern California. A paid regular at all SF comedy clubs he's opened for comics such as Norm Macdonald, Tony Hinchcliffe, Greg Proops and Ian Bagg. Mark took 3rd Place in the 2017 SF International Comedy Competition and worked with Bert Kreischer in Comedy Centrals Clusterfest 2018.
Chey Bell is a bisexual comedian who's brutally honest and uniquely clever. Often confounded by stupidity, Chey's comedy mirrors together life experiences and self-discovery. Chey has performed at The Comedy Store, Laff Factory, Punch Line, NY Comedy Club, Tommy T's and more. Chey has also featured for comedian Rachele Feinstein, R&B artist Eric Bellinger and has worked with Judah Friedlander and Fazon Love.
Ryan Goodcase got his start in Michigan and quickly has been breaking his way onto the Bay Area comedy scene. He regularly performs at some of the best local comedy hot-spots including The Punch Line SF, Comedy Oakland and The Set Up. Ryan is also a Rooster T Feathers competition finalist.
Dro Knows, or as his mother refers to him, Alejandro Ochoa, is a stand up comedian based in San Francisco. He is a regular at the San Francisco Punch Line, the Set Up, and Cheaper Than Therapy. He is also the 2017 Comedy Oakland Tournament Champion and is proud to announce that has recently begun paying for the bus.
Frankie Marcos was born and raised in San Jose, CA. Frankie has worked with Michael Che, Nicole Byer, Tony Baker, Chris Kattan, Bobby Lee, Dulcé Sloan, Guy Torry, Tony Roberts, and more. In 2017, Frankie placed 2nd out of 100 Bay Area comedians in the annual New Talent Comedy Competition at Rooster T Feathers.
Tickets are non refundable but you can transfer to a friend.
Comedy for a Spinal Cause is an event bringing together top comedians & local communities, raising funds and awareness to assist incredible individuals on their road to spinal cord injury recovery. Like us here: (Can just be a general liking and not an imaginary thumbs up)