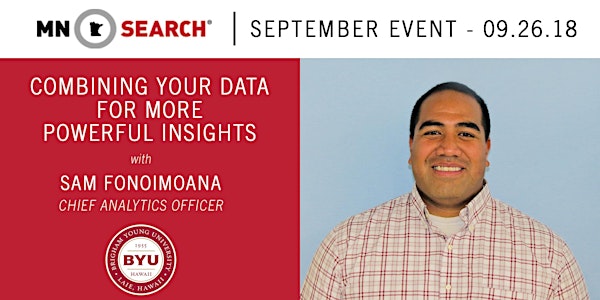 Combining Your Data For More Powerful Insights
Event Information
Location
Rocket55
807 Broadway Street Northeast
#170
Minneapolis, MN 55413
Description
Most marketers today live in a variety of tools. Go to Google Analytics to check impressions and visits, go to marketo to check campaigns, then go to each ad platform to see cost data, then finally head over to Salesforce to see your sales data. Many sources of information, yet you see only 1 dimension at a time … to your disadvantage. This presentation talks about how to get all your data in 1 place, tying it together properly, and then being able to visualize multiple data points for truly powerful reporting.
TOP 3 TAKEAWAYS:
1) How to pull, store and combine your marketing data in a centralized location

2) How to use your data: Use case #1 B2B content marketers tying efforts to sales and sales pipeline to see ROI

3) How to use your data: Use case #2 E-commerce increase repeat purchase rate of 1-time buyers
ABOUT THE SPEAKER
Sam Fonoimoana |

Chief Analytics Officer
Sam's passion is using data and analytics in a meaningful way to move businesses forward. He has helped companies such as Ancestry.com, Adobe, DOMO, Franklin Sports and Workfront over the past 10 years. Sam has deep experience across multiple disciplines from finance to data science to digital marketing, and he speaks regularly to the digital marketing community on topics such as attribution and data integration. Sam teaches Business Data & Analytics at BYU-Hawaii.
Date and time
Location
Rocket55
807 Broadway Street Northeast
#170
Minneapolis, MN 55413