Combination Community Backyards and Lawn Care Program
Description
Combination Community Backyards and Lawn Care Program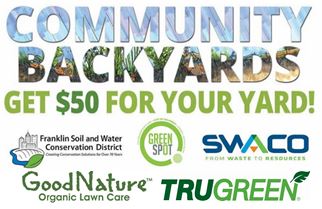 Please note that a crew from Good Day Marketplace will be present to tape promotional footage for Franklin Soil and Water's programming for some portion of this event.
--COMMUNITY BACKYARDS CONSERVATION REBATE PROGRAM—
10:00 a.m. - 11:20 a.m.
To qualify for a voucher, residents must attend this portion of the class which will focus on improving water quality. Topics include setting up rain barrels and planting rain gardens; adding important habitat with native plants; amending soil with compost; and caring for lawns properly.
--LAWN CARE AFFAIRS—
11:30 a.m. - 1:30 p.m.
Community Backyards attendees are welcome but not required to attend lawn care sessions to receive their voucher.
11:30 a.m. - 12:15 p.m.
Lawns 101 with Good Nature Organic Lawn Care
Good Nature Organic Lawn Care will address common lawn issues (pests, disease, cultural, weather, and exposure) and solutions.
12:15 p.m. - 12:30 p.m.
Break with light refreshments provided. Guests are also permitted to bring food and drink.
12:30 p.m. – 1:30 p.m.
Diagnostic walkabout / Q&A with TruGreen
TruGreen will take us outside for a field tour (weather permitting), and invites residents to bring samples from their lawns or representative photos to help diagnose disease or pests. An appropriate sample consists of a 2-3" square with roots (about 1" of soil in addition to grass). Samples should be gathered as "fresh" as possible- if taken the night before, refrigerator storage is suitable.