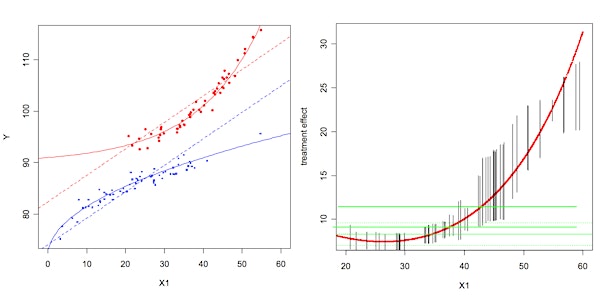 Columbia University Causal Inference Conference: Varying treatment effects
Location
Room 207 Math Building, 2990 Broadway, Morningside Heights, New York City
Description
Varying treatment effects
The literature on causal inference focuses on estimating average effects, but the very notion of an "average effect" acknowledges variation. Relevant buzzwords are treatment interactions, situational effects, and personalized medicine. In this one-day conference we shall focus on varying effects in social science and policy research, with particular emphasis on Bayesian modeling and computation.
9:30 AM
1. Heterogeneity across studies in meta-analyses of impact evaluations.
- Michael Kremer, Harvard
- Rachael Meager, MIT
- Beth Tipton, Columbia
10-45 - 11 coffee break
11:00
2. Heterogeneity across sites in multi-site trials.
- David Yeager, UT Austin
- Avi Feller, Berkeley
- Dean Karlan, Yale
- Ben Goodrich, Columbia
- Michael Weiss, MDRC
12:30-1:30 Lunch
1:30
3. Heterogeneity in experiments versus quasi-experiments.
- Vivian Wong, University of Virginia
- Michael Gechter, Penn State
- Peter Steiner, U Wisconsin
- Bryan Keller, Columbia
- Luke Miratrix, Harvard
3:00 - 3:30 afternoon break
3:30
4. Heterogeneous effects at the structural/atomic level.
- Jennifer Hill, NYU
- Uri Shalit, NYU
- Peter Aronow, Yale
- Jim Savage, Lendable Inc.
- Shoshana Vasserman, Harvard
5pm
Closing remarks: Andrew Gelman