Actions and Detail Panel
Colossus Con Pleasanton 2017
Sat, April 8, 2017, 10:00 AM – 6:00 PM PDT
Description
Pleasanton's very own pop culture convention brings together celebrities, artists, vendors, cosplayers, fans and friends. An ultimate pop culture event for fans of all ages - a day to remember for the entire family.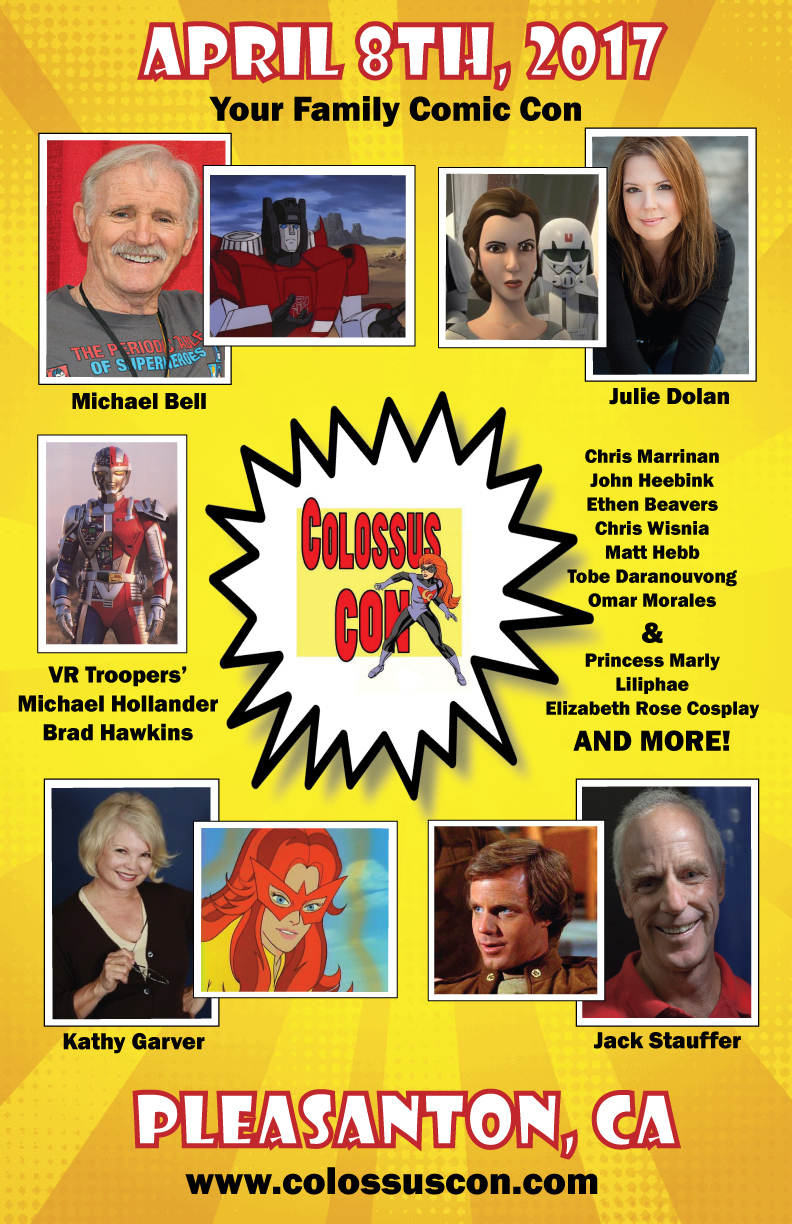 Colossus Con Pleasanton 2017 Special Guests include:
Michael Bell has acted in video games and animated series, including The Transformers, G.I. Joe: A Real American Hero, Rugrats and The Smurfs and appeared on-screen in film and television, including the TV programs Dallas and Star Trek.
Julie Dolan is an actress who has voiced Princess Leia Organa for various projects: Star Wars Rebels, Lego Star Wars: The Freemaker Adventures, Star Wars: Uprising, Disney Inifinity 3.0, Star Tours: The Adventures Continue.
A long time veteran television actor, Jack is best remembered for creating the role of Chuck Tyler on ABC's award winning daytime serial All My Children and as Bojay on the original Battlestar Galactica.
Kathy Garver is a stage, film, television, and voice over actress best known for the role of Catherine "Cissy" Davis on the popular sitcom Family Affair. Kathy Garver also provided the voice of Firestar on Spider-Man and His Amazing Friends.
Michael Hollander is known for his work on Hotel Transylvania (2012), Percy Jackson: Sea of Monsters (2013) and VR Troopers (1994).
Brad Hawkins is an American actor, country singer, and martial artist, best known for playing Ryan Steele in Saban's action adventure science fantasy series VR Troopers and for his role in the 2014 film Boyhood.
Chris Marrinan has worked on classic titles like Excalibur, Wonder Woman and Nova. He also worked with Dark Horse and Image Comics, where he created his own titles, HeadHunters, and Ms. Fortune.
John Heebink is known for his work on Doll and Creature, Elvira, Mighty Morphin Power Rangers, Nick Fury Agent of SHIELD and Quasar.
Ethen Beavers has worked as a penciler, inker, and colorist on a slew of comics and children's books for the last 12 years or so. He has illustrated comics at DC, Dark Horse and IDW on titles like Samurai Jack, Batman the Brave and the Bold, Buffy the Vampire Slayer, Clone Wars Adventures and Indiana Jones Adventures.
Creator of "S is for Spanko: A Frightening and Realistic Kirby-style Giant Monster Alphabet Book,"Monstrosis - a Doris Danger story about Kirby-style GIANT MONSTERS, Doris Danger Giant Monster Adventures in the Kirby GIANT MONSTER style, Tabloia Weekly Magazine (featuring a back-up serial of Kirby-style GIANT MONSTERS.
Matt has worked on licensed books for Titan Comics (DreamWorks' Home) and IDW (America's Army). Matt is also a prolific trading card illustrator, creating base cards for Cryptozoic (DC Comics' Women of Legend, DC Villains), as well as hundreds of sketch cards for Topps (Star Wars), Upper Deck (Marvel), and Cryptozoic (Ghostbusters, Adventure Time).
Tobe is the co-creator and artist of Alpha Q Comics, best-known for Villain Comic.
Creator, writer and publisher of the original graphic novel, CruZader™: Agent of the Vatican - a supernatural action-adventure thriller. Morales made international headlines by enlarging the first chapter of the CruZader saga into a poster-sized, one-shot comic book that broke the Guinness World Record for Largest Comic Book Published.
Princess Marly Cosplay has been active in cosplay since 2007, creating costumes from anime, comics, video games, and many other media. She is an advocate for body positivity in the cosplay community, calling for the inclusion of all shapes, colors, and sizes in the craft.
After making my debut in as Ezreal from League of Legends, I became enthralled with the cosplay community and the creativity that blooms from within it. er the last two years, I have traveled up and down the state of California for conventions and continue to immerse myself in this wonderful craft with seemingly no end in sight!
Born and raised in the small farm town of Atwater, California I found a passion for embodying characters I loved from my favorite shows. want ​​​to ​take with me what cosplay means to me and what I believe it should really be about so that I can spread that belief amongst my fellow cosplayers.
Tim Hurles aka NORCAL_CAP has had a secret love for comic book heroes and villain's since back when it could get you beat up. Nowadays it is cool to be geeky. So Tim plays dress up as his favorite characters using his own unique style and flair to each version he represents.
Ace has been a cosplayer since before the term was coined. Costumes and entertainment was simply part of growing up. Finding avenues to do it was the challenge. Now every day can be Halloween. Only a percentage of his dressed up time is purely by choice of fun. A great majority is done for charities and events.
​Plus, artists, vendors, comic books, toys, collectibles, video games, cosplayers and fan groups! A day of fun for the entire family at an affordable price!