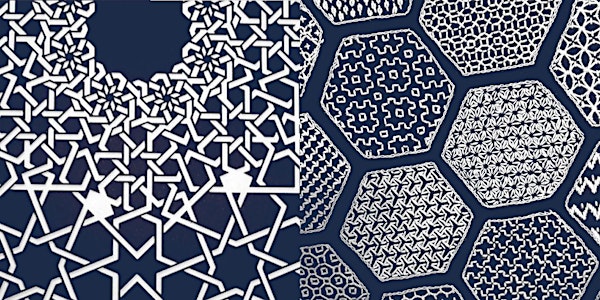 COLLOQUIUM Intersections: Mathematics + Design + Identity
Location
Berkeley Hillside Club 2286 Cedar Street Berkeley, CA 94709
Refund Policy
Refunds up to 1 day before event
Description
Join us at the Berkeley Hillside Club for an evening with four distinguished presenters from varied but interrelated disciplines. The first half of the evening will focus on concepts of infinity bridging the realms of mathematics and design with artist Phil Webster and esteemed logician Martin Davis. The second half of the evening will maintain the mathematical theme with a view towards regional identity, with presentations by Vanessa Drake Moraga on South American indigenous weavings and Yoshiko I. Wada on Japanese folk embroidery.


Saturday, January 27, 2018
Algorithmic Aesthetic: Into Infinity
Phil Webster + Martin Davis
4:00pm - 5:30pm
Potluck Social 5:30pm - 6:30pm
Regional Identity through Design and Craft
Vanessa Drake Moraga + Yoshiko I. Wada
6:30pm - 8:00pm
---
Algorithmic Aesthetic: Into Infinity
Saturday, January 27
4:00PM - 5:30PM



A Methodology for Creating Fractal Islamic Patterns
Phil Webster
Blending his own mathematics background with ancient craft traditions including Celtic knots, Indian kolams, and Tibetan mandalas, Phil creates multimedia artwork using contemporary technologies such as 3D-printing, laser-cutting, and dye sublimation. Although he works with computers to design and calculate, his pieces are generated by hand, a modern cooperation between man and machine. Phil will present his methodology for applying fractal mathematics to Islamic design concepts, using traditional geometric arrangements as a foundation to build truly fractal Islamic patterns with self-similarity at infinite levels.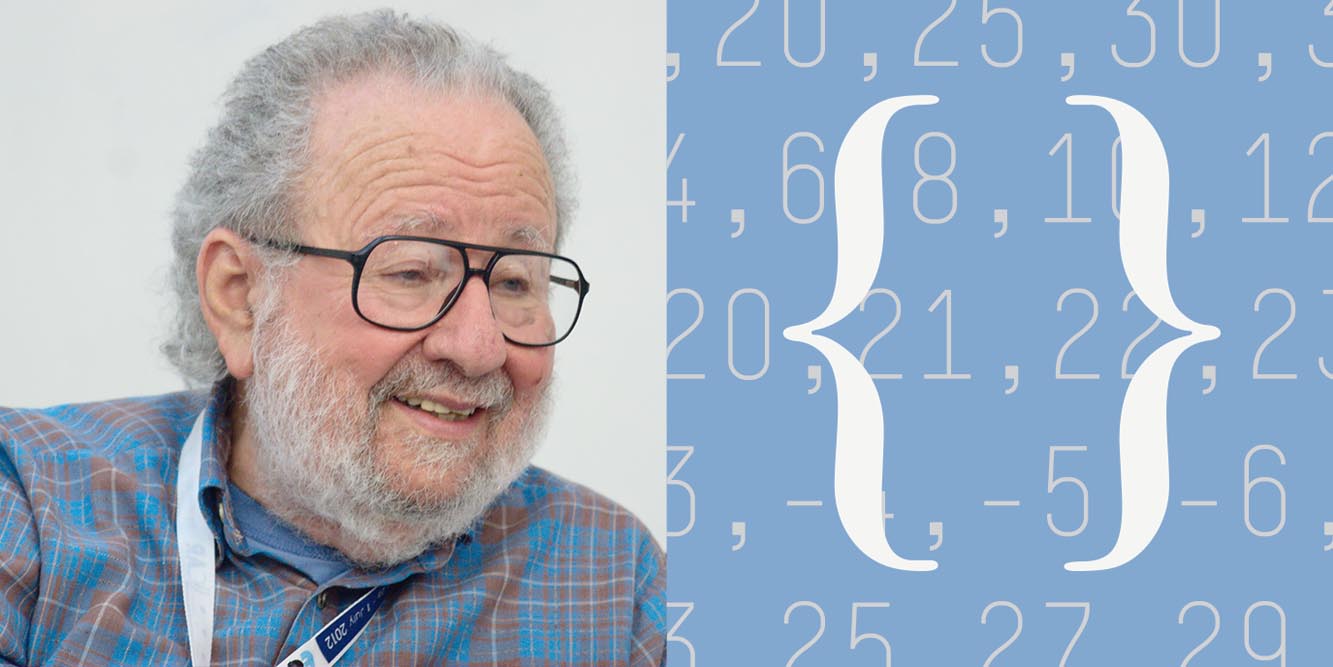 Algorithms + Infinity
Martin Davis
Mathematicians use the word "set" to describe different collections of numbers; for example, the set of even numbers (0, 2, 4, …), and the set of odd numbers (1, 3, 5, …). When sets are "finite", we can specify them by simply listing their members. But when sets proceed into infinity, we need to get more creative. Martin will explain three different methods mathematicians use to specify different sets of numbers, and how these lead to examples of problems we can't solve with an algorithm. Using the basic and concrete language of numbers, we'll see how changing your perspective on a problem can lead to deeper understandings and new avenues to explore.
Algorithmic Aesthetic: Into Infinity is a finale to 2017's Algorithmic Aesthetic event series.
---
Regional Identity through Design and Craft
Saturday, January 27
6:00PM - 8:00PM



Essential Geometry of the Mapuche and Ranquel Poncho de Cacique
Vanessa Drake Moraga
Woven by the Araucanian peoples of southern Chile and the Argentine Pampas, the iconic Chief's Poncho became an emblem of cultural resistance and indigenous identity during the 18th and 19th centuries. Although both Mapuche and Ranquel styles use indigo-dyed wool, their textiles express a striking dichotomy of design and symbolism revealing different strands of pre-hispanic influence. While Ranquel weavings feature tie-dyed concentric circles, Mapuche designs utilize cruciform-shaped ikat patterns. However, both fundamental motifs are ancient archetypal symbols conveying concepts of cosmological order, sacred space, and relationships to the landscape of the mountains and plains.

An encore presentation of Vanessa's popular session at the 10th International Shibori Symposium in Oaxaca, Mexico (Nov 2016).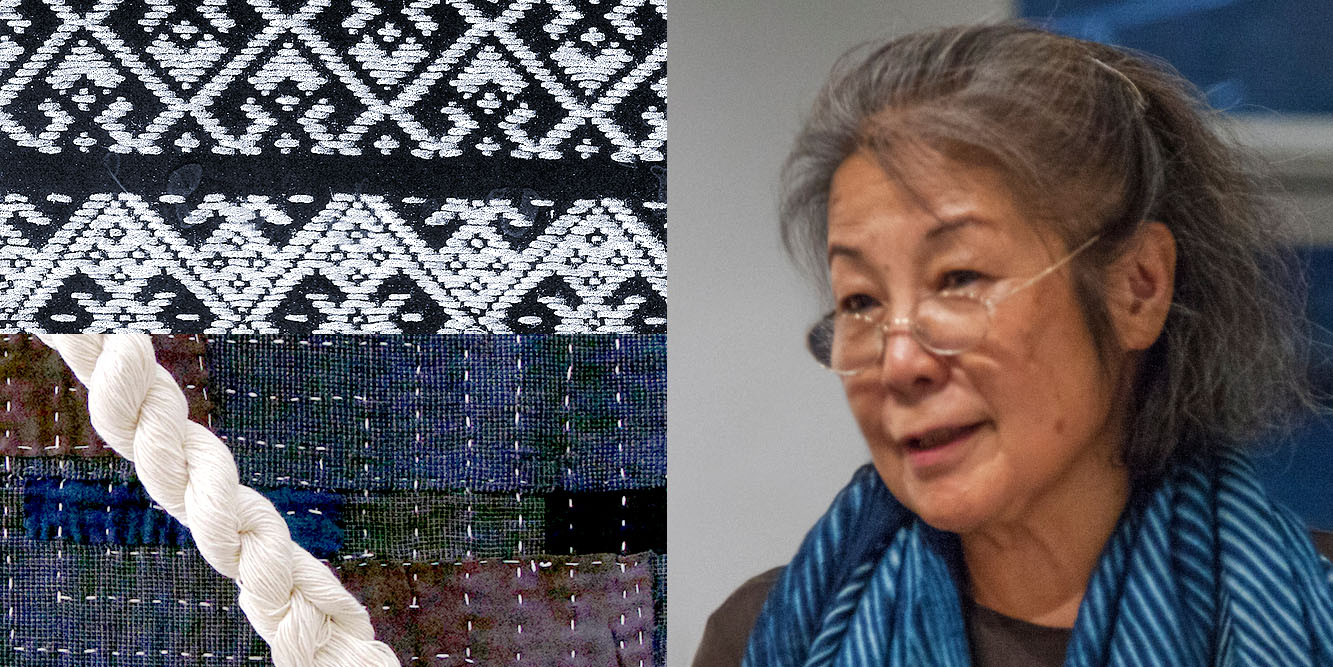 (In)tangible Heritage: Stitchery from Northeastern Japan
Yoshiko I. Wada
A form of Japanese folk embroidery based on the basic running stitch, sashiko is now celebrated for its simple aesthetic, although it originated in Japan's northeastern Tōhoku region as a practical method to darn textiles such as insulated layered clothing and cloths used to wrap and carry. Its simple graphic motifs often build through tessellation to create complex compositions with varied symbolic and historical meanings; e.g. the hexagonal kikko representing tortoiseshell or beehive is a symbol of good fortune. Yoshiko will discuss sashiko's regional specificities and the phenomenon of its global spread, introducing the themes of the 11th International Shibori Symposium to facilitate international discussion on how craft communities can thrive as regional identities in increasingly global societies.
---
Biographies


Phil Webster is a Santa Cruz-based artist trained in mathematics and cognitive science at MIT. His work, employing contemporary technologies such as 3D-printing, laser-cutting, and dye sublimation, addresses the intersection of mathematical form and pattern with ancient design tradition.
Martin Davis is a world-renowned logician, author, and educator. He is recognized as one of the original computer programmers with his work on the ORDVAC computer at the University of Illinois in the 1950s and is regarded for his work on proving the unsolvability of the outstanding mathematical question of Hilbert's Tenth Problem with Hilary Putnam, Julia Robinson, and Yuri Matiyasevich.
Vanessa Drake Moraga is an independent researcher, writer, and curator; the author of Animal Myth and Magic: Images from Pre-Columbian Textiles (2005), Weaving Abstraction: Kuba Textiles and the Woven Art of Central Africa (2011), Shamans, Supernaturals and Animal Spirits. Mythic Figures from the Ancient Andes (2016) and has written many articles about African and Andean textile traditions and iconography for Hali, Tribal, and other publications.
Yoshiko Iwamoto Wada is an artist, curator, and textile scholar, president of World Shibori Network, founder of Slow Fiber Studios, producer of the Natural Dye Workshop film series, and co-chair of the 1st - 11th International Shibori Symposiums. A Berkeley resident since 1973, she continues to lead a wide range of workshops, lectures, tours, and symposia internationally, emphasizing sustainability, tradition, and innovation in design.

---
For questions email Program Coordinator Karsten Landon at staff@yoshikowada.com