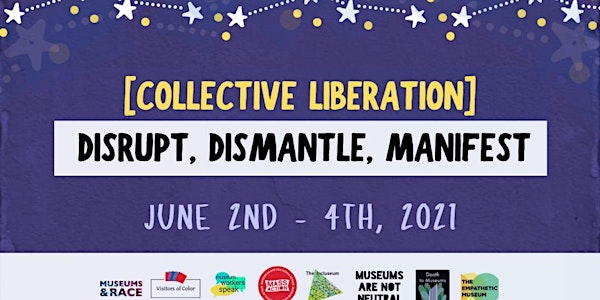 [Collective Liberation]: Disrupt, Dismantle, Manifest
#CollectiveLiberation is an opportunity for EVERYONE to shape and wholly transform the future of museums.
About this event
Registration is now open for [Collective Liberation]: Disrupt, Dismantle, Manifest! We are very excited for our lineup this year.
Registration is free with an optional Pay What You Can. Payments will go toward paying speakers and the fund for Museum Workers Speak.
By registering for the convening, you will have access to all of the sessions. Attendees will receive an email with session links at the start of each day.
Sessions will be recorded and uploaded to Museums & Race's YouTube channel.
ASL interpretation will be provided.
Registration caps at 500.
For any questions regarding registration, please contact museumequitycoalition@gmail.com
WHO WE ARE: This Coalition represents the change-making movements Museums and Race, MASS Action, Museum Workers Speak, The Incluseum, Museums Are Not Neutral, Empathetic Museum, Visitors of Color, and Death to Museums. Collectively, we believe there is inherent inequity in the existing systems alive in our institutions, and that we must address this foundationally through the lens of racial justice and anti-white supremacy. We are committed to effecting real, substantive, and transformative change in the museum field and seeing the manifestations of this work happen in our lifetime.