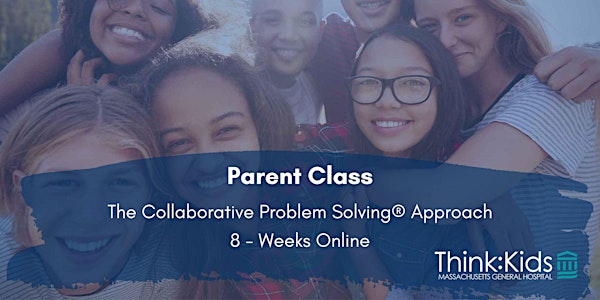 Collaborative Problem Solving Parent Class | Think:Kids | June 2023
8 - Week Online Collaborative Problem Solving® Parent/Caregiver Class on Thursdays, 1:30 pm - 3:00 pm ET / 10:30 am - 12:00 pm PT
By Think:Kids at MGH: Collaborative Problem Solving®
Date and time
Starts on Thursday, June 1 · 10:30am PDT
About this event
Collaborative Problem Solving® Parent / Caregiver Class (8 Weeks)
8 Online Sessions | Thursdays 1:30 pm - 3:00 pm ET / 10:30 am - 12:00 pm PT
June 1 - July 20, 2023
Think:Kids invites parents and caregivers to learn Collaborative Problem Solving® (CPS), the evidence-based and trauma-informed approach for helping children develop the skills they need to manage their behavior. This class teaches parents and guardians how to reduce challenging behaviors by using the CPS approach with their child.
This is an introductory class for those not yet familiar with Collaborative Problem Solving.
Class materials, breakout sessions, and opportunities for questions and answers will be a part of this highly interactive parent class experience.
During this interactive training you will:
Understand why children sometimes struggle to meet day-to-day expectations.
Learn the Collaborative Problem Solving approach to addressing conflicts in a way that reduces challenging behaviors, improves relationships, and teaches critical skills.
Practice addressing problems before things become escalated between you and your child.
Connect with other parents in a compassionate and non-judgmental setting.
Session Dates
June 1
June 8
June 15
June 22
June 29
July 6
July 13
July 20
Course Requirements
When registering, you are signing up for 8 Weeks. Attendance is required for each day as the learning builds upon the previous session's content. This class is tailored for parents and takes place entirely online. You will need to have email, basic computer skills, and internet access, and a web camera in order to participate in the sessions. Those who attend all 8 sessions will receive a certificate of participation.
Tuition
Individuals: $395 USD for all 8-sessions
Two Co- parents/Caregivers: $515 USD for all 8-sessions
** Must be discussing the same child in order to take advantage of the Two Co-parent /Caregiver discount**
Financial Assistance: If you require financial assistance, please apply for assistance by completing this form. Funds are limited, and the application does not guarantee an award. Application is due 2 weeks before the training begins.
About Your Instructor
Erin Hill, Ph.D., is a Licensed Psychologist and Clinical Instructor in the Department of Psychiatry at Harvard Medical School and a full-time Certified Trainer & Consultant at Think:Kids. Dr. Hill has worked with youth and families in a variety of settings including inpatient, outpatient, residential treatment, and therapeutic schools and summer camps. The primary focus of Dr. Hill's training has been on providing evidence-based treatment to children and adolescents experiencing acute emotional distress and/or behavioral challenges.
Dr. Hill received her doctorate in clinical psychology from Suffolk University and her master's in child development from Tufts University. Dr. Hill completed her internship training at Astor Services for Children and Families, in Rhinebeck, NY. She also completed postdoctoral fellowship training at the University of Minnesota.
About the organizer
Think:Kids teaches a revolutionary, evidence-based approach for helping children with behavioral challenges. Through training, support, and implementation services, we promote the understanding that challenging kids lack the skill, not the will, to behave well – specifically skills related to problem-solving, flexibility and frustration tolerance. Unlike traditional models of discipline, our Collaborative Problem Solving® approach avoids the use of power, control, and motivational procedures and instead focuses on teaching kids the skills they need to succeed. #KidsDoWellifTheyCan