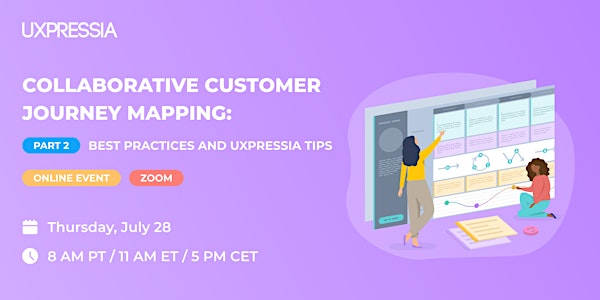 Collaborative Customer Journey Mapping: Best Practices (Part 2)
Learn how to organize and facilitate journey mapping sessions
About this event
This is the second event of the series dedicated to collaborative mapping. Our previous event was about organizing the collaboration in journey mapping.
The truth is that at one point or another, collaborative journey mapping will involve a synchronous session or a workshop.
Like any other collaboration, this one comes with multiple challenges:
❔ What stages to pick for a collaborative mapping workshop?
❔ How long should a journey mapping session last?
❔ How to decide on the group size?
❔ How to ensure a great experience for everyone involved?
❔ How to brainstorm ideas together?
When properly and effectively arranged, these sessions can become truly productive and inspiring. Join our event to learn from UXPressia experts how to organize and facilitate such sessions.

📄 In this event we will cover:
Pros and cons of synchronous collaboration;
3 journey mapping workshop examples;
2 concepts to help you plan journey mapping sessions;
Why facilitation is important for successful journey mapping collaboration;
Facilitating ideation sessions;
UXPressia features to ensure smooth collaboration;
Key things to remember when preparing for an online collaborative session.
The session will be followed up with the Q&A, so make sure to join live 😉
👥 Who is it for?
This event will be useful for people already building journey maps with their teams or clients, and those who don't know where to start.
About organizers
UXPressia is an all-in-one cloud solution for understanding customer, user, and buyer experience, engaging teams, and driving successful digital transformation. Visualize your customers' journeys, create personas and impact maps, analyze touchpoints in multi-channel interactions, and invite teammates to collaborate in real time. Export designer-quality maps and personas and present them right from your browser online.
🎥 The event is going to be recorded.