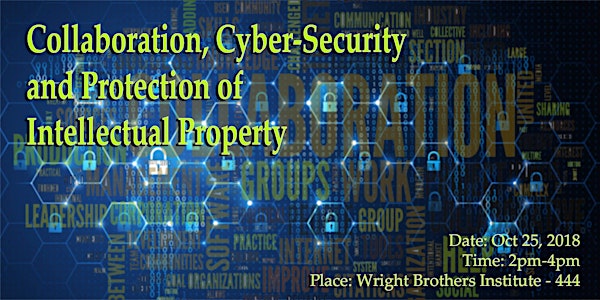 Collaboration, Cyber-Security, and Protection of Intellectual Property
When and where
Location
Wright Brothers Institute: 2nd Street 444 East 2nd Street Dayton, OH 45402
Description
The AFRL Small Business Hub announces another informative Collider...
Collaboration, Cybersecurity and Protection of Intellectual Property
The challenge to operate collaboratively and protect your intellectual property amidst elevated cyber threats is daunting. Cybersecurity is the 4th pillar of procurement in DoD on par with cost, schedule and performance. Expect increase in oversight and enforcement for Primes and all tiers in supply networks. In this talk, we explore opportunities to grow your business through superior collaboration, and to leverage cybersecurity compliance such as NIST 800-171 as a source of competitive advantage.
Secure collaboration reduces total cost of ownership and compresses the product lifecycle from innovation to deployment. Innovation does not happen in isolation; you still must protect your intellectual property. DoD is encouraging partnering for bigger, better and faster deployment of diverse ideas such as those highlighted in "The Air Force Science & Technology 2030 Initiative". Secure collaboration is key to success, not just a cost of doing business. It sets you apart.
Takeaways include:
A holistic approach for cybersecure collaboration

How to increase schedule visibility and reduce costs

Protecting your intellectual property

How to grow your business by partnering with others

How to connect anyone to anyone with full privacy and security

Implications for small to large organizations

Compliance with NIST 800-171, NIST 800-53, ITAR and other cybersecurity standards
About the Speaker:
Adam Garfein, Ph.D.
Adam Garfein, Ph.D. is Vice President of Business Development at Menawat & Co. He has over 25 years of experience in operational and business transformation, software and analytics, program/project management, and marketing innovations. His experience spans many industries such as automotive, aerospace/defense, industrial, life sciences, medical devices, construction management, software and government sectors. Adam has played an important role in Menawat's transition from a business advisory to a cloud software company around ProFIT-MAP™ products. ProFIT-MAP™ is a set of methodologies and software including secure collaboration with full project and document management and business analytics. Adam is a frequent speaker on topics including people-centric collaboration and Industry 4.0™ technologies. He is a co-author of two business books: Execution Dynamics (Amazon, 2012) and Profit Mapping (McGraw Hill 2006).