Houston's PREMIER Real Estate Networking Event!
About this event
Investopia Online in association with WholesalingRE101.com PRESENTS Coffee & Contracts Houston Real Estate Networking Event.
🗣 This FREE event is for WHOLESALERS, BUYERS, DEVELOPERS, REALTORS, CONTRACTORS, SERVICE PROVIDERS & ALL REI INVESTORS!
RSVP:
✍ Wholesalers: Come meet the real buyers.
Buyers: Bring your checkbook. ✍
DEALS ARE DONE ON THE SPOT AT OUR EVENT!
🏚 FIRST COME | FIRST SERVE LMTD SPACE!
🏚 FREE DRINKS!
🏚 100% FREE EVENT!
🏚 UNLIMITED NETWORKING!
⏰ (November 30th 2021) 6:30PM-9:00PM ⏰
📍 VENUE/LOCATION:
The Kings Head Pub
1809 Eldridge Parkway
Houston Tx 77077
⚠️ Special Thank you to our GRAND SPONSORS! ⚠️
RED DOOR FUNDING
Dhoke@RedDoorFunding
PATRIOT TITLE CO
Natalie Henshilwood
Natalieh@patriottitletx.com
CLEARSKIP Skiptracing
Support@Capitalskip.com
QUEST TRUST CO
Derreck.Long@Questtrust.com
WholesalingRE101.com - Learn How to Invest in Real Estate.
RunMyComps.com - Run comps without a license.
CallVirtuals.com - #1 Real Estate Cold Calling Service.
⚠️ Special Thank you to our PLATINUM SPONSORS!
The Kings Head Pub
Roomy pub style tavern with traditional English decor!
InvestopiaOnline.com
Email us to join our BUYERS LIST!
✌Ron Rana
(Signing out)
See ya at the EVENT!
🛑 P.S. Don't be late. WE ALWAYS HAVE A HOUSE FULL. Remember, we are capping out this event to only a certain number of people! 🛑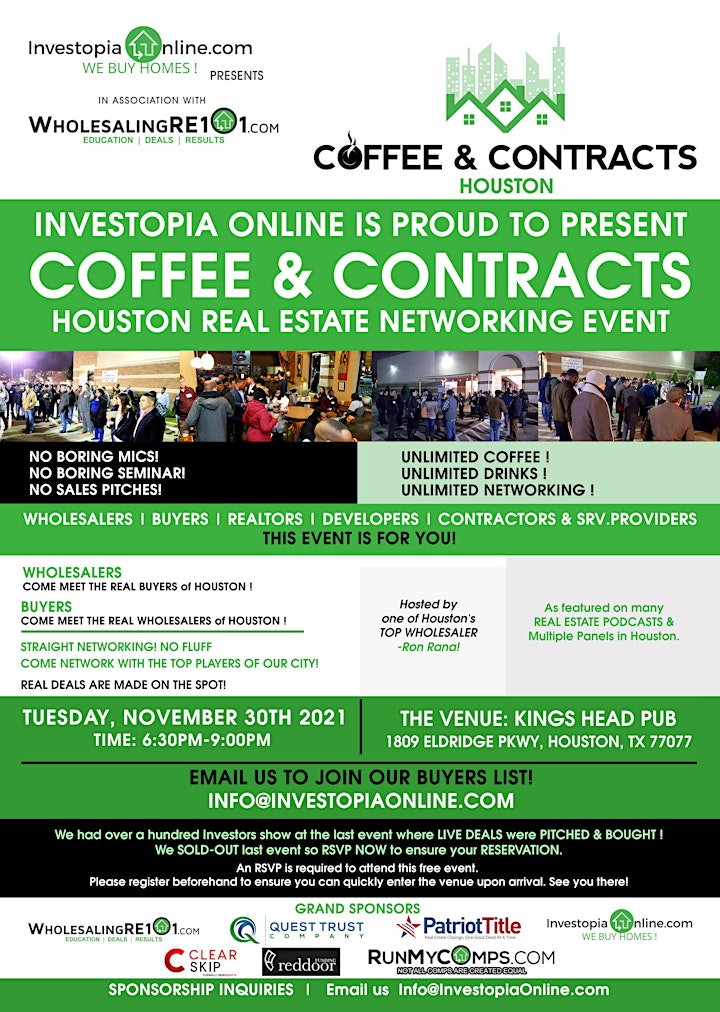 Organizer of Coffee & Contracts Houston REI Networking Event
Investopia Online, LLC is the area's leading real estate solutions company. We are proud to be apart of the Houston Better Business Bureau.
We successfully work with homeowners, buyers, sellers, real estate agents, and real estate investors, buying and selling all types of residential real estate. We are confident that we can find the right property or solution for you, whether you have a house to sell, are looking to buy your next investment property, or are looking for your family's "forever home." We can share our knowledge so that you can make the best decisions for your situation and we are dedicated to make everyone's experience a smooth and successful process.