| | |
| --- | --- |
| Coffee and Conversations 2020 | |
Event Details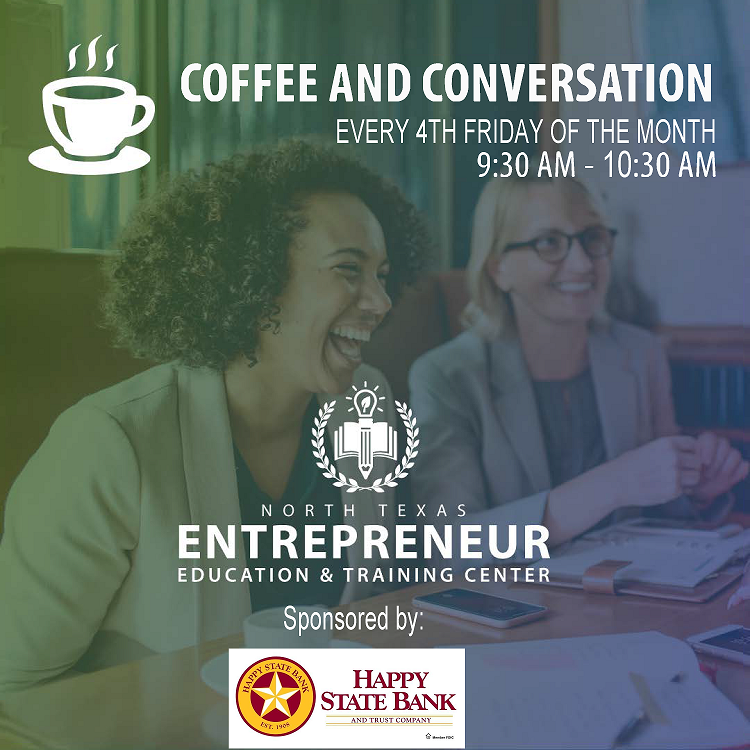 It is 2020 and we could not be more excited about this years Coffee and Conversations! 2019 was a great time of networking and connecting and we are looking forward to doing it bigger and better for 2020.
Are you a professional in the Mid-Cities looking for ways to connect to connect and engage in the H.E.B. and surrounding community?? Join the North Texas Entrepreneur Education and Training Center in partnership with Happy State Bank, every 4th Friday as we network and engage with like-minded professionals, Entrepreneurs, and community stakeholders for a dynamic time of coffee and conversation.
Each month we come together to connect and share information on the business resources and opportunities available within our community. This is a professional atmosphere that allows individuals to get to know one another, connect, collaborate, and continue the conversation of potential partnerships, events, and anything else they deem appropriate.
So pull out your business cards, make introductions, and establish relationships that will impact your business growth for years to come.
Tell a friend to bring a friend.........We invite you to be our guest!
We can't wait to see you!
Save This Event
When & Where

1901 Central Drive
Suite 200
Bedford, TX 76021


Organizer
The North Texas Entrepreneur Education and Training Center was founded to assist Entrepreneurs with the struggles of initiating a solid start to their business endeavors. Our focus is to provide individuals who have a goal or vision of entrepreneurship with the proper tools, resources, and education needed to start, build, and effectively grow their business. This center should NOT be confused with organizations such as Co-working spaces, accelerators, or the traditional business service organization (BSO).
Our process is different! The NTEETC functions as an educational catalyst for startup
entrepreneurs, preparing them for future interaction with local service organizations, client retention, and optimal business growth. We believe that Entrepreneurship in its infancy stage is the most critical time of business ownership, and we aim to nurture the process to the level of independent growth and development.  
We have developed our center to be a starting point for Entrepreneur lifestyle seekers to come, learn, and and be exposed to the realities of business ownership, without making a lofty investment into something that will develop into nothing. Through our pipeline of partners, stakeholders, and staff, we provide a safety net for beginner Entrepreneurs to fall shamelessly and be lifted back to safety. Although we are a For-Profit business resource entity, we position ourselves as a social enterprise, as we know and understand the costly effects of starting a business. This is why our network includes over 62 seasoned business professionals and industry experts, ready to engage, encourage and of course educate diligent Entrepreneurs at any stage of the process.
Through our process, we focus on these contributing factors:
 Entrepreneur Education
 Startup Business Services
 Low Cost Facility Usage
 Strategic Business Alliances
Our Mission: To equip aspiring entrepreneurs with the knowledge needed to succeed in business, from
start to finish.
Our Vision: To the leading source for entrepreneurial education in the DFW community
OurMotto: Transforming business gaps into gains
Our Core Values:
Biblical principles
Integrity
Dedication
Trust
Professionalism