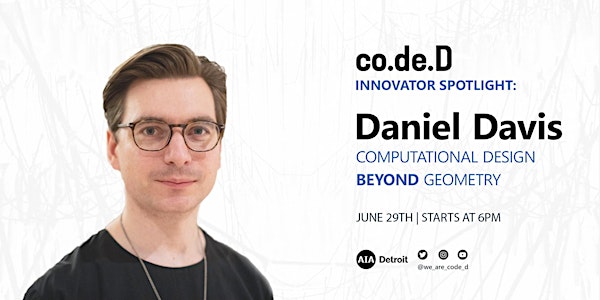 co.de.D Innovator Spotlight: Computational Design Beyond Geometry
Daniel Davis discusses Computational Design beyond the Geometry.
About this event
AIA continuing education will be provided. You must join via weblink on a computer to qualify for continuing education credit.
THIS WILL NOT BE RECORDED, BE SURE TO ATTEND THE LIVE EVENT! RSVP IN ORDER TO RECEIVE THE ZOOM INFORMATION IN YOUR EVENTBRITE CONFIRMATION EMAIL!
Description: Over the years, computational design has become synonymous to complex geometry manipulation. Daniel Davis, one of the world's leading architecture and technology researchers, demonstrates how programming and computational design skills can be applied more expansively throughout the AEC industry. Join co.de.D as we host a lecture by Daniel about his computational design work, including on Sagrada Família, and how those skills have translated to the research he does currently at Hassell and previously at WeWork.
Examination of ways to apply computational design in the design process beyond form finding and geometry rationalization.
Discussion of the business advantages of implementing computational design in the workflow of the design team.
Discussion on how designers, architects and engineers can use computational design to make data-driven decisions.
Discussion of industry trends shaping the future of practice
About Daniel Davis: Based out of New York, Daniel is a senior researcher at Hassell focusing on the relationship between people, space, and design technology. Prior to joining Hassell, Daniel was the Director of Research at WeWork, and a research assistant for Antoni Gaudí's Sagrada Família. He originally studied architecture in New Zealand and later did a PhD in computational design at RMIT University in Australia. Daniel is a regular columnist for Architect Magazine and his research has appeared in a variety of publications including Wired, Fast Company, and the Harvard Business Review.