Description
The CODED Hackathon is an event where a team of coders and designers build tech solutions. The goal of CODED hackathon is to bring together the best minds in coding and design in an intensively collaborative environment to bring out the best in them through a challenging format.
---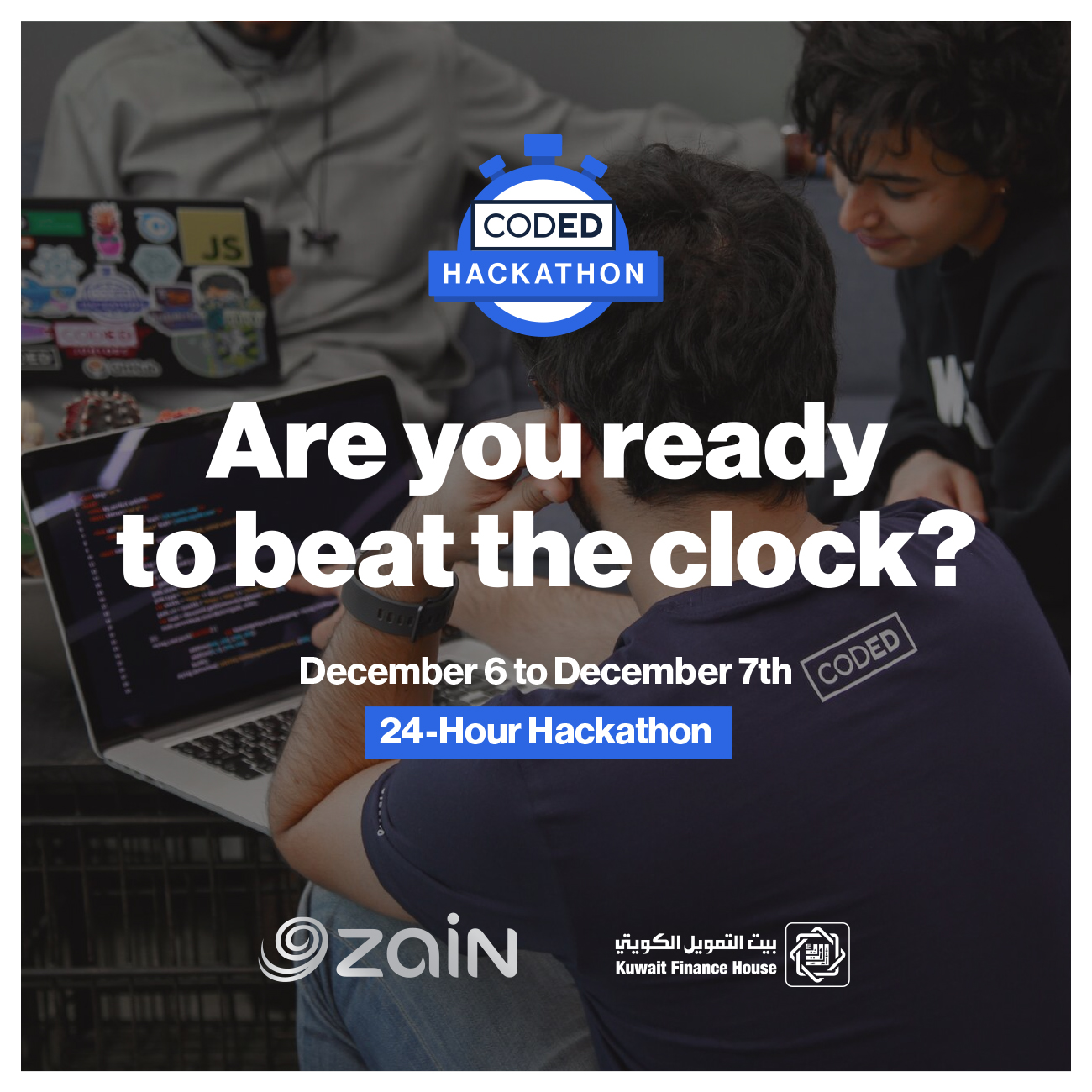 ---
Who can Participate :
Developers looking to improve their skills or expand their horizons.
Students and developers that want to learn and work with other highly motivated individuals.
Designers of all skill-sets.
Entrepreneurs that can add value to teams.
Kuwait Finance House & Zain are proudly sponsoring the CODED Hackathon as strategic partners. Without their support, this event would not have been possible.
Kuwait Foundation for the Advancement of Sciences will be rewarding a number of top candidates from the Hackathon with an exclusive scholarship into a speclized CODED Bootcamp. More information to follow.
---
Awards:

Top Place: 1,000 KWD
Second Place: 500 KWD
Third Place: 250 KWD
Extra superlative awards for the Hackathon's winners and participants to be announced at a later time.
Agenda:
Friday, Dec. 6th,
15:30 - 17:00 Check-In, Team Formation, & Networking
17:00 - 18:00 Opening Ceremony & Hackathon Guidelines
18:00 - 18:00 CODING TIME*
18:00 - 19:00 Closing Remarks & Awards Ceremony
19:00 - 20:30 Dinner & Networking
*Coding continues throughout the second day, Dec. 7th till 18:00
Rules & Guidelines*:
Each team must consist of a minimum of 1 member, and a maximum of 6.

Once your team is formed, no member is allowed to switch teams.

Each team will use their own laptops and equipment.

Check-in closes at 5:00pm sharp.

Participants MUST remain in the venue for all 24 hours. Only female participants are allowed to checkout at 9:30 pm at the earliest and check back in by 7:00 am at the latest.

Participants may leave for short periods of time (15 minutes every now and then), but you're not allowed to take your laptop with you.

The CODED team will be doing regular random checks at team stations to see which members are present. If a member is not back at their station for a prolonged period of time, they risk being disqualified.
* Extra rules & guidelines will be explained during the event's opening ceremony, including the competition's details. Participants should check this page regularily for any updates to the guidelines, on top of following CODED on instagram for any potential announcements.
What CODED wil provide:
Food and Beverages.

Comfortable seating.

Internet Access.

Prayer Areas.
(Note: the word "Hack" and "Hackathon" pertain to "hacking" at a problem, which means finding a creative solution with limited resources. It is widely used by the coding and tech community to express creative problem solving through programming and design.)
Once you step into the CODED Campus, you're part of our family and community, and we hope to create another memorable moment together.
Instagram: @joincoded
Website: www.joincoded.com
---