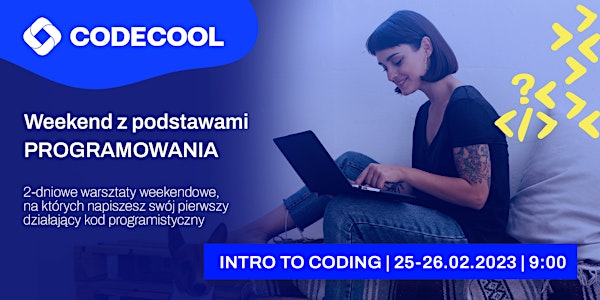 Codecool - Intro To Coding
Intro to Coding! Weekend z podstawami programowania
Date and time
February 25 · 12am - February 26 · 6:30am PST
About this event
Zapraszamy na Intro to Coding, czyli 2-dniowe warsztaty weekendowe, na których napiszesz swój pierwszy działający kod programistyczny! I nie musisz mieć żadnego doświadczenia. To spotkanie dla osób, które dopiero chcą sprawdzić, czy polubią się z kodowaniem.
Kiedy: 25-26 lutego 2023 | 9:00 - 15:30 | ONLINE
Warsztaty poprowadzi jedna z naszych doświadczonych Mentorek, która przybliży Ci nasze autorskie założenia nauki programowania. Pokażemy Ci też ścieżki rozwoju w najbardziej perspektywicznej branży - w IT. Będziesz mógł/a zapytać o możliwości nauki w naszej międzynarodowej organizacji oraz poznać naszą kulturę i metody pracy.
Uwaga! Ze względu na efektywność warsztatu, liczba miejsc jest ograniczona do 15 uczestników.
Codecool nie pobiera opłaty za uczestnictwo w warsztacie, ale żeby skutecznie zarezerwować sobie miejsce na Intro to Coding, trzeba wpłacić kwotę 50 zł na rzecz Fundacji IT Girls, która pomaga rozwijać technologiczne zainteresowania wśród dzieci oraz młodzieży, walczy ze stereotypowym podejściem do osób pracujących w IT oraz wspiera kobiety w przebranżowieniu się.
Więcej o  Fundacji IT Girls: https://itgirls.org.pl/
Jak zarezerwować sobie miejsce na warsztat?
Zarejestruj się, klikając przycisk "Reserve a spot"
Wypełnij i wyślij formularz
Otrzymasz email z potwierdzeniem rejestracji
Dokonaj wpłaty min. 50 zł na konto fundacji do końca dnia 23.02.2023 (link poniżej)
Prześlij potwierdzenie na adres kateryna.zinishyna@codecool.com
W odpowiedzi otrzymasz zaproszenie na spotkanie
Dołącz do spotkania 25 oraz 26 lutego i napisz swój pierwszy kod!
Dane do wpłaty https://itgirls.org.pl/donate/
Uczestnicząc w Intro To Coding nie tylko sobie odpowiesz na pytanie "Czy programowanie jest dla mnie?", ale też przyczynisz się również do wsparcia większej aktywności kobiet w branży IT.
To jak, widzimy się?
ZAREZERWUJ MIEJSCE!
About the organizer
SZKOŁA PROGRAMOWANIA CODECOOL
Czy wiesz, że 98% naszych Absolwentów kursu Full-stack Developer jest zatrudnianych przez firmy na stanowisku Junior Developera? Taką skutecznością nie może się pochwalić żadna inna firma ucząca programowania na naszym rynku. To najlepszy dowód na jakość naszych kursów oraz efektywność działu Business & Recruitment, który dba o relacje z naszymi Studentami oraz utrzymuje stały kontakt z naszymi Partnerami, którzy zatrudniają naszych Absolwentów.
Chcesz zmienić swoje życie i pracować w branży IT? Wybierz jeden z naszych kursów i skorzystaj:
z gwarantowanego zatrudnienia
z odroczonej płatności - możesz zacząć spłacać kurs nawet 1,5 roku po jego rozpoczęciu!
elastycznej formy nauki - online lub stacjonarnie
dopasowanego terminu zajęć - w weekendy lub w ciągu tygodnia
Wykorzystaj szansę i zrób pierwszy krok na swojej nowej ścieżce kariery w IT!