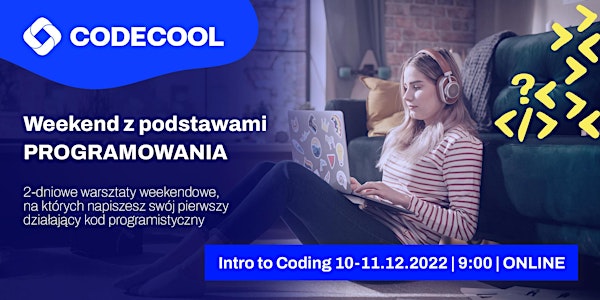 Codecool - Intro To Coding
Intro to Coding! Weekend z podstawami programowania
About this event
Uwaga, zostały ostatnie miejsca!
Zapraszamy na Intro to Coding, czyli 2-dniowe warsztaty weekendowe, na których napiszesz swój pierwszy działający kod programistyczny! I nie musisz mieć żadnego doświadczenia. To spotkanie dla osób, które dopiero chcą sprawdzić, czy polubią się z kodowaniem
Kiedy: 10-11 grudnia 2022 | 9:00 - 15:30 | ONLINE
Warsztaty poprowadzi jedna z naszych doświadczonych Mentorek, która przybliży Ci nasze autorskie założenia nauki programowania. Pokażemy Ci też ścieżki rozwoju w najbardziej perspektywicznej branży - w IT. Będziesz mógł/a zapytać o możliwości nauki w naszej międzynarodowej organizacji oraz poznać naszą kulturę i metody pracy.
Uwaga! Ze względu na efektywność warsztatu, liczba miejsc jest ograniczona do 15 uczestników.
Codecool nie pobiera opłaty za uczestnictwo w warsztacie, ale żeby skutecznie zarezerwować sobie miejsce na Intro to Coding, trzeba wpłacić kwotę 50 zł na Fundację IT Girls, która pomaga rozwijać technologiczne zainteresowania wśród dzieci oraz młodzieży, walczy ze stereotypowym podejściem do osób pracujących w IT oraz wspiera kobiety w przebranżowieniu się.
Więcej o  Fundacji IT Girls: https://itgirls.org.pl/
Jak zarezerwować sobie miejsce na warsztat?
Zarejestruj się, klikając przycisk "Reserve a spot"
Wypełnij i wyślij formularz
Otrzymasz email z potwierdzeniem rejestracji
Dokonaj wpłaty min. 50 zł na konto fundacji do końca dnia 8.12.2022 (dane poniżej)
Prześlij potwierdzenie na adres kateryna.zinishyna@codecool.com.
W odpowiedzi otrzymasz zaproszenie na spotkanie.
Dołącz do spotkania 10 oraz 11 grudnia i napisz swój pierwszy kod!
Dane do wpłaty https://itgirls.org.pl/donate/
Uczestnicząc w Intro To Coding nie tylko sobie odpowiesz sobie na pytanie "Czy programowanie jest dla mnie?", ale też przyczynisz się również do wsparcia większej aktywności kobiet w branży IT.
To jak, widzimy się?
ZAREZERWUJ MIEJSCE!