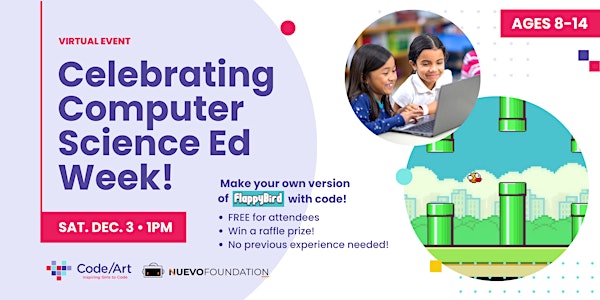 Code/Art x Nuevo Foundation Hour of Code Workshop
Join us for a special Hour of Code workshop for girls (ages 8-14) to celebrate the 10th annual Computer Science Education Week!
About this event
Code/Art and the Nuevo Foundation have partnered to bring you a fun programming workshop in celebration of Computer Science Education Week!
About Workshop:
Welcome to JSappyBird where you will get to make your own version of Flappy Bird with code! In this coding workshop, led by the Nuevo Foundation, we will learn how to use the JavaScript language to help the bird play in the world that you will create. No previous experience required.
**Workshop is for female-identifying, non binary and gender queer students (ages 8-14)**
About Nuevo Foundation:
Nuevo Foundation is an organization fueled by Microsoft employees that offers coding workshops for students to learn real-world problem solving skills using coding, hardware and their own imagination. Nuevo foundation also offers virtual sessions to share the stories of people who have succeeded in STEM fields with students worldwide.
About Code/Art:
Code/Art is a non-profit organization on a mission to increase the number of girls in computer science by delighting and inspiring them with the creative possibilities of computer programming. Code/Art's programming includes coding clubs for girls, annual competitions, workshops, training for K-12 teachers and an annual tech+art conference held every spring.