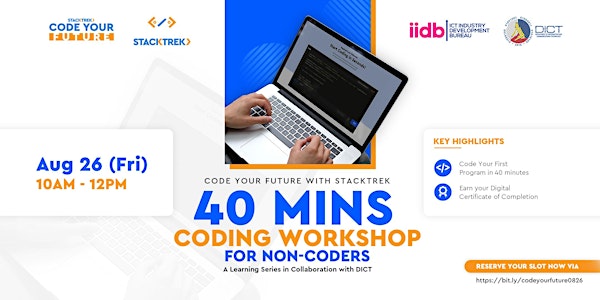 Code Your Future with Stacktrek: 40 Mins Coding Workshop for Non-Coders
Join the Code Your Future with StackTrek: 40 Mins Coding Workshop for Non-Coders if you want to kickoff your IT career today!
About this event
Whether you're a fresh graduate applying for your first job or a non-coder/career shifter curious to enter the IT industry, this session is for you! Learn how to kickoff your career and even code your first program in 40 minutes!
What You'll Learn:
✅ Code Your First Program in 40 minutes
✅ Earn your Digital Certificate of Completion
Agenda
I. Opening Remarks from DICT
II. Why Learn Coding Now
III. Coding 101 for Beginners
IV. 40-mins Coding Workshop
V. DICT Announcements
VI. Bootcamp Info Session
About Code Your Future
Code Your Future is a StackTrek project in partnership with the Department of Information and Communications Technology (DICT) that aims to elevate more people to become tech professionals through programming education.
Code Your Future is also supported by JobStreet and Kalibrr.