Location
The Office Project
Bautista
Makati, NCR 1227
Philippines
Description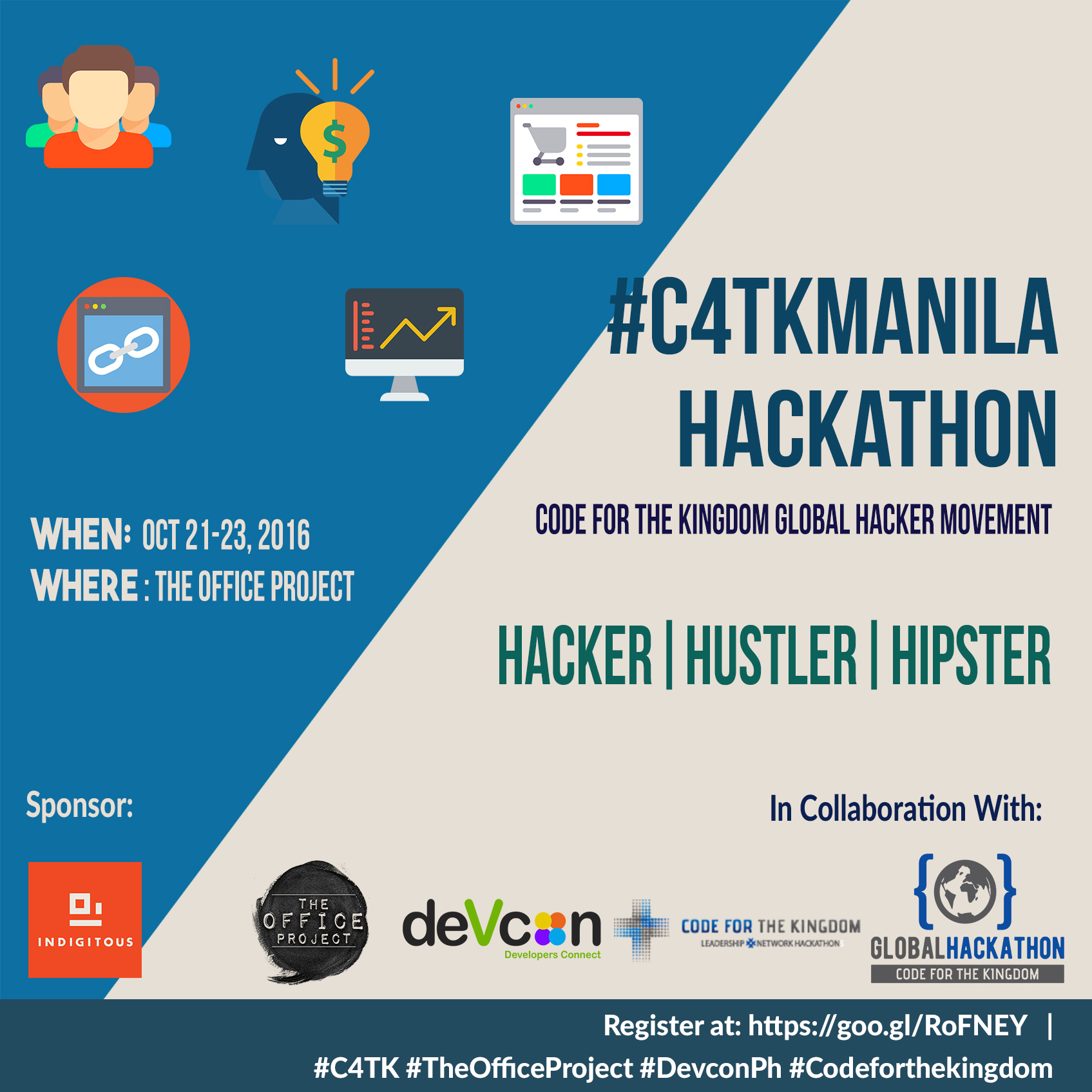 Hackathon will be on Oct 21 7:00pm - Oct 21 8:00pm
Registration link: https://goo.gl/RoFNEY
HACKATHON GUIDELINES
What is Code for the Kingdom?
Code for the Kingdom is a weekend hackathon and ongoing ecosystem where global issues are tackled from a Christian perspective. Join an incredible group of individuals who are applying their skills and experiences to advance common good and serve God's Kingdom. In collaboration with innovative nonprofits and churches, we'll write code and create technology to help release the oppressed, teach God's Word, heal the sick, feed the hungry, clothe the naked, and support the church and the body of Christ.
This Hackathon is a non-profit event to encourage the activation and on-going collaboration of a larger ecosystem of all sorts of creative individuals (including programmers, designers, creatives, entrepreneurs, and leaders of churches, non-profits, and the marketplace) who are passionate about creating technologies to tackle the challenges confronting our society, our communities, our churches, and our spiritual lives.
Who Can Join?
Open to all professionals and college students who are either a hustler, hacker or hipster, who are passionate about creating technologies to tackle the challenges confronting our society, our communities, our churches, and our spiritual lives. If you register as an individual, you can join the hackathon alone or find team members during the Day 1 of the Hackathon

Non-tech people are also welcome to join.
What to expect?
Meet and network with other developers and passionate visionaries.

The top 3 winning teams gets cool prizes. But the best part of joining here is allowing your skills to create potential solution to pressing issues in our country.

All projects presented will have the chance to be chosen as the People's Choice Award.

All participants will get an event shirt, free food and drinks.
What to Bring?
Participants are responsible for their own equipment, including computers, chargers and tools needed to make their app

Foods/drinks, power outlets, tables/chairs, internet access will be provided.
Platform and Technology Stacks
No limitation!

You can explore any platform (web, mobile, VR)

You can explore any technology stack (language, libraries, framework)

All projects will be uploaded in Devpost before the Pitching session
Criteria for Judging
Kingdom Impact 20%
Viability / Relevance / Practicality 30%
Innovation /Creativity 20%
Completeness 10%
Design 10%
Presentation 10%
Total 100%
What to Expect in Day 1: Oct 21, 2016 Friday 6pm -12 mn
It is expected that everyone is ready for the Pitchfire since local theme challenge was given already during pre-event launch.

Anyone intending to pitch will have 60 seconds to give their best pitch. No presentations or props needed for Friday, it will just be you and a mic.

Network with other hackers, hipsters and hustlers. Even ask them to be part of their part or them part of yours.

Teams can start working afterwards
Reminders
Practice your pitch. You'll have 60 seconds to persuade other attendees to join your team. Make it clear, concise, and convincing
Bring a friend is encourage. You can form as a team as well but for the spirit of collaboration and exploration, we encourage you to team up with other new found friends (or co-founders). Events are better with good bes on your side.
What to Expect in Day 2: Oct 21, 2016 Saturday 10 am - 12 mn
Teams will work all day, with the occasional breaks to eat or listen to 1-2 short talks.

Mentors will be circulating to provide advice in the field of their expertise for those teams that want it.
Code of Conduct / Terms of Agreement
All teams retain full ownership of what they have created for the competition. By submitting a solution to the challenge, you do not transfer any intellectual property rights to the organizers
Frequently Asked Questions
Check us!
This is made possible in collaboration with Leadership Network,C4TK Manila Chapter head Jason Quick, The Office Project Coworking Studio and Developers Connect Ph.