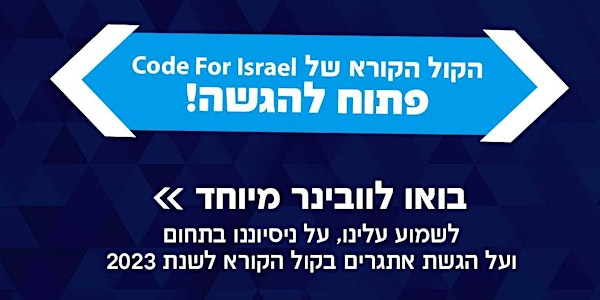 Code for Israel Health - Webinar
Code for Israel, Israel's high-tech volunteer movement, is expanding its projects in healthcare. Join us to hear about submitting challenges
About this event
Code for Israel, the volunteer movement of Israel's high-tech, is comprised of more than 500 volunteers from high-tech companies, working together to solve deep challenges in the Israeli ecosystem using technology.
We are significantly expanding our projects in the field of healthcare, to provide technological solutions to the unique needs of the field.
We provide a professional team of volunteers, technological infrastructure, development of a technological product, implementation, and professional advice.
Join us to hear more about submitting challenges!
עמותת Code for Israel, תנועת המתנדבים של ההייטק הישראלי, מורכבת מלמעלה מ-500 הייטקיסטיות והייטקיסטים, שפועלים יחד כדי לפתור אתגרים עמוקים בחברה הישראלית באמצעות טכנולוגיה – בהתנדבות מלאה.
בימים אלה אנו מעמיקים את עיסוקנו באופן משמעותי בתחום הבריאות, במטרה לתת מענה טכנולוגי לצרכים הייחודיים של התחום.
העמותה מספקת צוות מתנדבים מקצועי, חיבור לתשתיות טכנולוגיות , בניה ופיתוח של מוצר טכנולוגי עד להוכחת היתכנות לפתרון הבעיה, ליווי בתהליך הטמעת המוצר וליווי וייעוץ מקצועי לאחר השלמת הפיתוח.
בוא לשמוע עוד על הגשת אתגרים במסגרת המחזור הקרוב שלנו!