Description
"Code Art Miami" showcases art created through computer programming by girls in grades 3-12. Attendees will be able to view and interact with the art, as well as try their hand at coding and learn more about local STEAM resources at a Tech Ed Expo taking place during the event. There will be other fun activities, including the chance to create art in Virtual Reality and a People's Choice digital art competition.
This is a great event for students, parents, STEAM educators, artists curious about coding as a new medium of expression, and more experienced coders interested in creating art through coding.
---
4:00 - 4:30 pm - Check-in, Vote for "People's Choice"
4:30 - 5:45 pm - Digital Art Show, Coding Classes, Tech Expo
5:45 - 6:15 pm - Welcome & Inspirational Talks
6:15 - 6:45 pm - Awards Ceremony
6:45 - 7:30 pm - Reception & Networking
---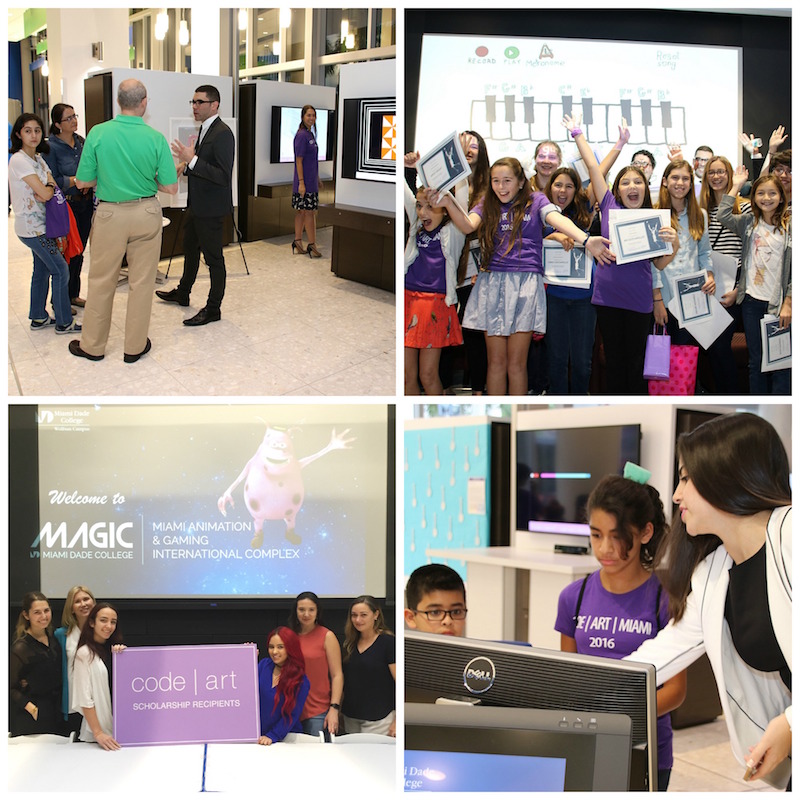 Digital Art Showcase: Art created through computer programming will be on display throughout MAGIC's state-of-the-art space. This includes digital animations, interactive computer programs, 3D-coded art, and over 100 digital self-portraits generated from computer programs written by girls in grades 3-12!
Coding workshops: There will be three coding workshops – Intro to Video Game Development in Scratch, UX Design Tips for Web Development, and Intro to Creative Coding with p5.js. The p5.js class will be led by master instructor Cassie Tarakajian from the Processing Foundation in NYC. The workshops are open to all who want to give coding a try; however there is a small additional fee to reserve a spot in the p5.js Master Class. To reserve your spot, either purchase a VIP ticket or a General Admission ticket plus an add-on Workshop ticket.
Hands-on Activities at Tech Ed Expo: Local organizations offering STEAM (Science, Technology, Engineering, Art & Mathematics) programs will have informational booths and hands-on activities for participants, including the opportunity to create art in virtual reality (VR).
Inspirational Speakers: The keynote address will be given by Cassie Tarakajian, a fellow with the Processing Foundation in NYC. Cassie has degrees in electrical engineering and music from Johns Hopkins and is interested in ways that art drives technology and vice versa.
Headline speaker Miral Kotb is an entrepreneur, dancer, choreographer, and software engineer. Miral earned a degree in computer science from Columbia University and also studied dance at Barnard College. Combining her two passions of dance and computer programming, Miral came up with the idea to wirelessly control lights on dancers' bodies. From that initial idea in 2009, iLuminate, an entertainment company that merges technology and dance, was born. In 2011, the iLuminate dance troupe was a top finalist on America's Got Talent and, since then, iLuminate has become an international sensation.
Coding Competition & Awards Ceremony: Prizes will be awarded to winners in the three main categories – Animation, Interactive, and 3D – as well as to the winner of the People's Choice award for best coded Self Portrait. Each event attendee gets to help choose the People's Choice winner by voting for their favorite.
* Net proceeds from the event go to fund the CodeArt scholarship at MDC, which provides a two-year full-ride scholarship for a student studying Computer Animation or Gaming, and to fund CodeArt educational programs for youth in the Miami community.
Who should attend:
K-12 students interested in coding

Parents interested in tech learning opportunities for their children (coding, robotics, maker camps, etc.)

Educators interested in new STEAM resources and teaching methods

Anyone who is curious about learning to code

Artists curious about using code as a new medium for expression

More experienced programmers who want an introduction to "creative programming" with p5.js
FREE parking in MDC Lot 7. MDC Wolfson Campus Map