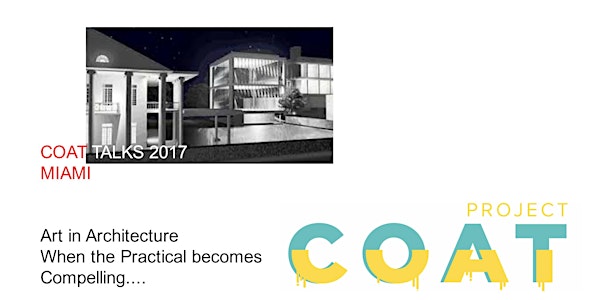 COAT TALKS - Art in Architecture: When the Practical Becomes Compelling
When and where
Location
Miami Hispanic Cultural Arts Center 111 Southwest 5th Avenue Miami, FL 33130
Description
Project COAT is a community of artists transforming streets into living spaces, blurring the line between museum and gallery. COAT pairs emerging with professional artists alongside scholars in the humanities and sciences for projects that create innovation, share South Florida's distinct culture and revitalize the community.
The art in architecture panel is very special in that it happens in one of Miami's oldest historical properties on the Miami River where a renaissance is occuring due to the boom in building east of I-95 and the pressures to expand into areas west. Architecture at its best transforms the building process into the creation of a piece of living art for the inhabitants and inspiring lives.
But architecture must be also extremely practical as it must literally stand up to the elements, time and sustained use by humans interacting with the structure and spaces. The art happens when a practical design becomes compelling because something is exceptional about the choice of detail, the ease or innovation in the use, or the integration with another part of the program. The second definition of architecture is: the complex or carefully designed structure of something (the first definition of course is the design and construction of a building or structure). Several artists and architects discuss the different ways they approach design...what happens when the practical becomes compelling... and a work of art. Panel Moderator is Margi Northard of Glavovic Studio in Fort Lauderdale joined by local artists and architects from two counties.
Panelists include Roberto Rovira, award winning architect, writer, teacher and artist who has collaborated with Jacek Kolasinski, New-Media artist, Associate Professor of Visual Arts at the Art + Art History Department at Florida International University, join City of Fort Lauderdale's Staff Urban Planner, Randall Robinson, instrumental in recent Broward County MidMod architectural tours, in discussions about art in architecture and the blurring of the line between visual art and the practice of inspired design for human interaction and habitation with Felice Grodin, a noted Artist in Miami.

Admission is free. Doors open at 6:00 PM for a 6:30 panel about the art of architecture.