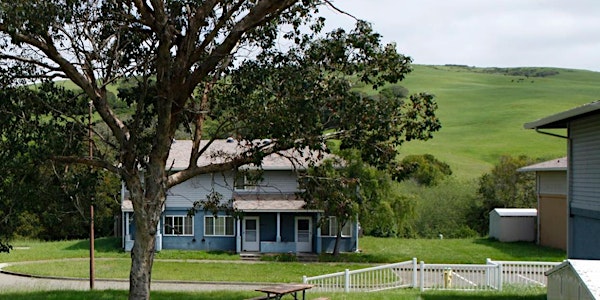 Coast Guard Neighborhood Design Gatherings – Attend All 3!
Join us for the FINAL Coast Guard Neighborhood Gathering on Saturday, August 14th!
When and where
Location
Point Reyes Station Former Coast Guard site 100 Commodore Webster Drive Point Reyes Station, CA 94956
About this event
Gathering 3: Saturday, August 14 - Design Share & Feedback
In the third and final gathering of this community planning process, our team of architects will share their design plans for the neighborhood and we'll gather in small groups to give feedback on the designs. Bring your friends, family, and neighbors!
3:30 - 4pm Light Food & Self-Guided Tours
4 - 6pm Design Share & Feedback
6 - 6:30pm Reception with Food & Music
Location: Former Coast Guard Property,
100 Commodore Webster Drive, Point Reyes Station
Masks strongly recommended.
___________________________________
CLAM, Eden Housing, and the Point Reyes Station Village Association are hosting three (3) Neighborhood Design gatherings to explore how we will reshape this neighborhood together! This is a 3-step community planning process, so please plan on attending all three gatherings. And bring your West Marin friends and family!
This meeting series is your opportunity to come onto the Coast Guard property, experience this neighborhood for yourself, learn more about the project, and give your input and feedback.
All meetings will be held outdoors at the former Coast Guard property, 100 Commodore Webster Dr. in Point Reyes Station.
All gatherings (except for the Zoom recap) will be bilingual English & Spanish.
Social distancing will be required to ensure the safety of all.
Please bring a mask and water bottle.
Visit CoastGuardHousing.com to spark your imagination and get informed about the work that lies ahead. It will be an anchor of information and exchange throughout the neighborhood renewal process. To subscribe for updates, click here and then hit the "Subscribe" button.
Previous Gatherings:
Gathering 1*: Sunday, July 18 from 4-6pm - Orientation and Tour - Open at 3pm for tours, music, and food.
Learn about what's happening and the process to rehab the property, ask questions, and see the place for yourself with a tour.
*For those who are not yet ready to gather in-person, there will be a Zoom recap of the first Gathering on Tuesday, July 20th at 5:30pm. Click here to register.
Gathering 2: Sunday, July 25 from 4-6pm - Small Group Design Input
Contribute your perspective in a small group discussion about the design of the housing, community, and landscaping aspects of the neighborhood. Listen to the views of community members.