Event Information
Location
General Assembly
100 NE Farragut Street, Studio #04
Portland, Oregon 97211
Description
Coaching For Results with the Agile Fluency Game
Create your own custom play-book and deploy the Agile Fluency™ Game as a powerful coaching tool.
The Agile Fluency Game provides a rich platform for learning about the benefits and trade-offs of adopting agile practices. You can use this physical, euro-style game to create stand-alone exercises or as part of a larger training course. Learn how as you create your own custom play-book from a series of mini-workshops using the game materials.
You will receive your own copy of the Agile Fluency Game and learn its secrets. Then you'll move beyond game facilitation as you gain the knowledge to design powerful interactive learning experiences.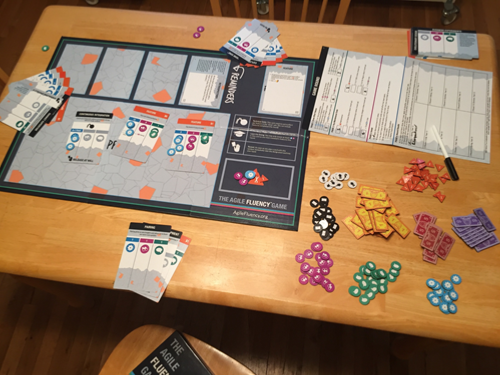 Who is this workshop for:
Coaches, Scrum Masters, trainers, consultants, and anyone else interested in fun, engaging ways to teach teams about Agile practices.
Prerequisites:
A basic working understanding of agile principles and practices.

Experience designing and delivering training courses and workshops


Rave Reviews:
"This workshop gives agile coaches an amazing set of tools to demonstrate both the value and the cost of various agile practices and to help teams craft their own adoption plan which fits their agile journey." – Kathy Iberle
"I recommend tihs workshop because it is a great way for a team to understand how a wide variety of agile practices work together in synergy." – Daniel Walsh
"The venue, the people, and the attention are all, in a word, awesome!" – Ahmed Avais


FAQs
What will I learn?
James Shore and Diana Larsen have created a workshop that's fast-paced and full of content.
You'll learn expert facilitation techniques to use in your own coaching, training, and team-building activities, and you'll learn to conduct several bonus activities using the game materials. Each activity provides another way to engage your audience and teach them about important Agile concepts!
The day's activities cover:
Play the Agile Fluency Game (and unlock its secrets)

Facilitate the Agile Fluency Game with groups of any size

Make sound cost/benefit tradeoffs when selecting Agile practices

Determine which Agile practices to adopt next and how to achieve proficiency

Use the Agile Fluency™ Model for aligning teams to specific Agile practices

Take away bonus modules to conduct with teams, clients, and colleagues

Receive a boxed copy of the Agile Fluency Game with everything required for play


What do I get?
You'll receive a professionally-printed boxed set that includes everything you need to run the game on your own.
The game set includes:
Fold-out game board

19 unique Agile Practice cards

21 Feature cards

100+ Investment chips

Progress tracker

Game rules

Dry-erase markers
Plus, electronic teaching aids and bonus materials:
Animated rules video to show your players

Workshop preparation punchlist


How do I play the game with teams?
The Agile Fluency Game supports one to seven players. A typical session, including instructions and debrief, takes 1.5 to 2 hours.

One game session is all you need for the core lessons, but the game is challenging enough that most players enjoy the opportunity to play again and try for a better score.

Each session provides opportunities for further learning. You can use the game as part of a larger training course or as a stand-alone team exercise.
Use the Agile Fluency Game to start and sustain a rich conversation about which Agile practices to adopt next and how to achieve proficiency!



What if I have more questions?
Please contact the Agile Fluency Project: info@agilefluency.org
Date and time
Location
General Assembly
100 NE Farragut Street, Studio #04
Portland, Oregon 97211