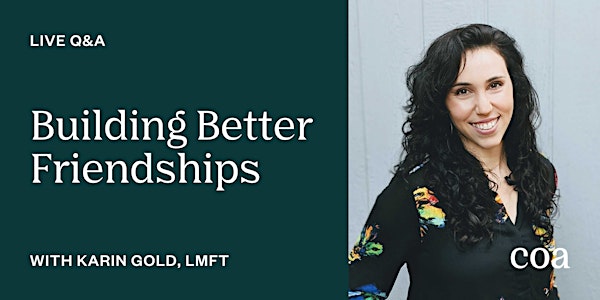 Coa Live Q&A: Building Better Friendships
Tips on nurturing stronger friendships, no matter what life throws your way.
About this event
Friendships play a huge role in our mental health. They say that the quality of our life depends on the quality of our relationships, and friendships are some of the most influential and important relationships we can have.
But how do we manage these relationships during times like these when we're all under stress (and quarantined at home)? Between a global pandemic, climate change, and the current political climate, we're all dealing with a lot right now. How can we nurture our friendships while taking care of ourselves?
Join us for a live Q&A with licensed therapist Karin Gold, LMFT, who will answer your questions on building and nurturing friendships virtually, handling conflict, and the tricky art of making new friends in adulthood.
Ask questions like:
More and more of my friends are moving away because of the pandemic. How do we stay connected in a way that doesn't feel forced?
How do we handle conflict?
What do we do when we've drifted apart?
In an attempt to answer as many questions as possible, Karin will share responses based on popular themes and most frequently asked questions. While you may not see your specific question, keep your eyes and ears peeled for themes that relate to your personal experience.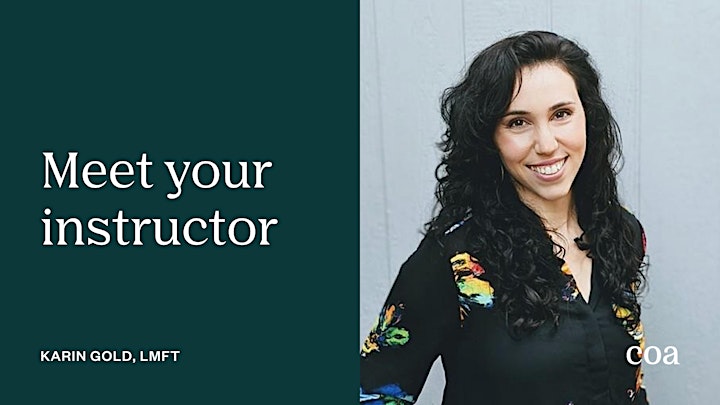 Who's leading this Q&A? Karin Gold, LMFT ✨
Karin Gold is a licensed therapist and Emotional Fitness Instructor at Coa, where she uses her background in clinical psychology to make mental health accessible, personal, and engaging. Karin has worked with hundreds of people across multiple demographics, specializing in cross-cultural dynamics, interpersonal effectiveness, group process, and facilitation. Passionate about the deep and ongoing work of therapy and emotional fitness, Karin also acknowledges it thrives best in the light of humor, genuine human connection, and artistic expression — values she is committed to practicing every day.