Calling all "recovering classroom management enthusiasts"! Are you looking to co-create a physically safe and brave social-emotional space?
About this event
Elementary educators, join us for co-creating a classroom community that centers children of all backgrounds as we aim to answer the following questions: How does classroom management limit the children in your classroom? How does classroom management liberate the children in your classroom?
Classroom management implies learners need to be managed by the educator. It implies a law and order system, requiring rewards and consequences to maintain expectations.
By the end of this three-session course educators will be able to:
Foster genuine relationships with your learners and their families
Understand the importance of the environment in one's classroom
Authentically prepare an environment for the children's development and growth
Have a plan to de-escalate classroom conflicts
Co-create expectations to support independence
Establish protocols that allow classroom interdependence
This 3-week course created just for 1st-6th grade educators will be led by Trisha Moquino, Britt Hawthorne, and Tiffany Jewell.
Live Discussions: Sundays, June 14th, 21st, and 28th from 3pm to 4pm CST
Please feel free to contact us for any inquires at hello@listeningandlearning.org
If your level is sold out, please sign up for the waiting list here. You will be the first to know when we release new dates.
About Your Presenters:
Trisha Moquino (pronouns she/her) is the Founding Education Director/Keres Speaking Guide at Keres Children's Learning Center (KCLC) which serves Cochiti Pueblo. She is from the tribal communities of Cochiti, Kewa, and Ohkay Ohwingeh Pueblos in New Mexico. Trisha completed her Montessori Elementary I certification at the Montessori Education Center of the Rockies. Her master's thesis laid out the vision for what would eventually become the KCLC. Her daughters were her inspiration for wanting to start KCLC.
Britt Hawthorne (pronouns she/her) is a nationally recognized equity education trainer. Britt partners with action-orientated educators, helping them to plan their next steps for creating classroom environments that are inclusive and equitable for all learners. Her work seeks to move justice from being an idea to accepted culture. Britt graduated from Rockford University where she studied Elementary Education and English as a Second Language. She is also certified in Lower and Upper Elementary Montessori from the American Montessori Society. Britt is also the co-creator of the Instagram #antiracistbookclub. Follow Britt on Instagram @britthawthorne Website: britthawthorne.com
Tiffany Jewell (pronouns she/her) is a Black biracial writer, twin, first generation American, cisgender woman, an antiracist educator and consultant, and a mama. She spends her time drinking tea, baking bread, donuts, and macarons, building LEGOS, watching British detective shows, and dreaming up how she can dismantle white supremacy. Tiffany currently resides on the traditional unceded land of the Pocumtuc and the Nipmuck with her two young activists, her partner, and a turtle she's had since she was nine years old. Her favorite books are the Autobiography of Malcolm X as told to Alex Haley and Caucasia by Danzy Senna. She is in her 15th year as a Montessori educator and nearing two decades of work in schools with young folks, families, and educators. She wrote her first (and definitely not her last) book, This Book Is Anti-Racist, which was published in January 2020. Follow her on social media @tiffanymjewell.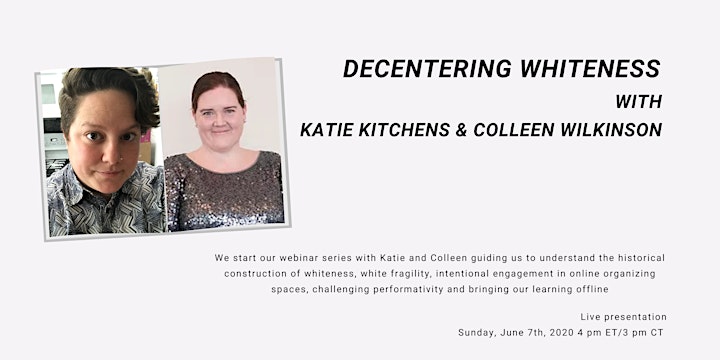 *Prerequisite for all white folx/white presenting/white passing folx
June 7th from 3:00-4:30 pm CST
What is whiteness? What does it mean to decenter it? How can we as white folks show up to racial justice work in solidarity rather than in a way that perpetuates harm? As white folks striving for antiracist practice, these questions have guided our work.
We aim to work in community as facilitators and learners to better understand the historical construction of whiteness, how it functions at a structural level, and how in manifests in ourselves. In this workshop we will explore:
The historical construction of whiteness
White fragility
Intentional engagement in online organizing spaces
Challenging performativity and bringing our learning offline
We are excited to learn alongside you, and welcome any questions you might have. Please feel free to contact us at: katiemkitchens@gmail.com and Traumainformedmontessori@gmail.com
*What is white presenting or white passing? "Racial passing is when someone's features cause them to be mistaken for another racial or ethnic group. Depend on what race or ethnicity people pass as, they can experience different treatment which can be advantageous or detrimental. White passing privilege is the additional privilege some people of color (POC) are afforded when their features, such as skin color or hair texture, cause them to be mistaken as white." Read the full article https://femmagazine.com/feminism-101-what-is-white-passing-privilege/
About Your Presenters:
Katie (pronouns they/them/she/her) has worked in public and private Montessori classrooms for the past decade as an instructional coach and primary and elementary guide. Currently, Katie is pursuing a Ph.D. in Educational Studies, researching white racial identity development in young children. They strive to work in community to uproot white supremacy within themself and work in coalition toward what Dr. Montessori called universal liberation.
Colleen Wilkinson (pronouns she/her) is an AMS-credentialed teacher (Early Childhood), teacher educator, consultant, and a Director at Montessori Country Day School in Houston, Texas. She lives with her wife, teenage daughter, and many pets in the suburbs. She serves on the AMS Peace and Social Justice Committee. In her local school district, she serves on the Special Education Parent Advisory Committee and District Education Improvement Committee. In addition to her partnership with trauma-informed care and social justice organizations, she provides professional development and support groups for parents and educators. She is passionate about trauma-informed care, ABAR work, adoption and foster care, and disability rights.