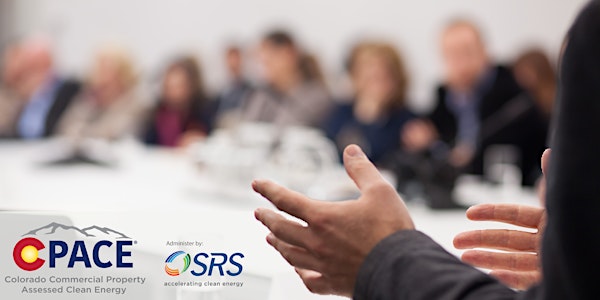 CO C-PACE Online Workshop - 5/09/2023
This free webinar is for energy efficiency and renewable energy contractors, and project developers who wish to learn more about C-PACE.
By Sustainable Real Estate Solutions
Date and time
Tuesday, May 9 · 8 - 10am PDT
About this event
This free in-depth webinar will discuss the C-PACE program, how the financing and the process works, identify program resources available to help market C-PACE and develop C-PACE financed projects, and present case studies that illustrate different uses of C-PACE financing throughout the state. The workshop is required as part of the contractor registration process, and is open to building owners, developers, financial institutions, government representatives, interest groups, and any other stakeholders or interested parties.
Webinar Topics:
• C-PACE background & market opportunity
• Program updates
• Meeting the needs of key gatekeepers
• "How it works" best practices
• Program case studies
• Resources
Join the call: https://meetings.dialpad.com/tphillips76
Optional dial-in number: 720-593-6410
No PIN Needed
About the organizer
About SRS
Sustainable Real Estate Solutions (SRS) partners with state and local governments to administer commercial property assessed clean energy (C-PACE) programs. Founded in 2010 by experienced commercial real estate and energy efficiency professionals, the company's proprietary technology-enabled Energy Performance Improvement Calculator (EPIC™) tool streamlines the management of the data-intensive C-PACE technical and financial underwriting process. SRS's Investor Confidence Project-credentialed quality assurance methodology has facilitated over $650 million in C-PACE financing nationwide. SRS empowers C-PACE public-private partnerships across the country. The company is based in Newtown, Connecticut.