CMMI® V2.0 Training (plus optional Agile/CMMI Integration Workshop)
Event Information
Location
Hilton Garden Inn
3950 Fair Ridge Dr
Fairfax, VA 22033
Description
Foundations of Capability + Building DEV Excellence = CMMI® V2.0 Training
---
Join the CMMI V2.0 Gang In Washington, DC!
This high-speed CMMI® Institute certified course provides you with a detailed understanding of the all-new CMMI Development V2.0, and how use this knowledge to improve performance and ace your upcoming appraisal.
You can receive 21 PDUs towards your PMP Certification, while learning to be dangerously good at your work!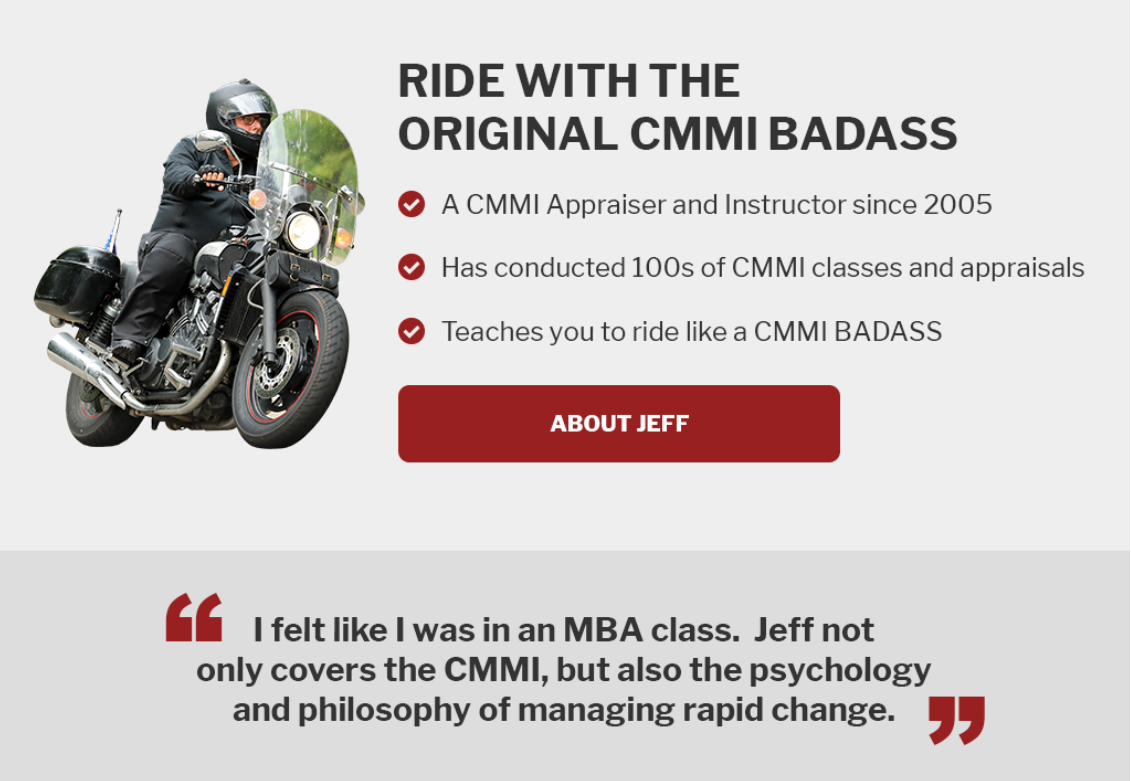 This all-new training class includes to classes: Foundations of Capability and Building DEV Excellence.
This class will thrill you with a with a detailed overview of the new practices and areas in CMMI V2.0 and the new Appraisal Method. Not only will you understand -- you'll retain your knowledge in this high-speed learning environment.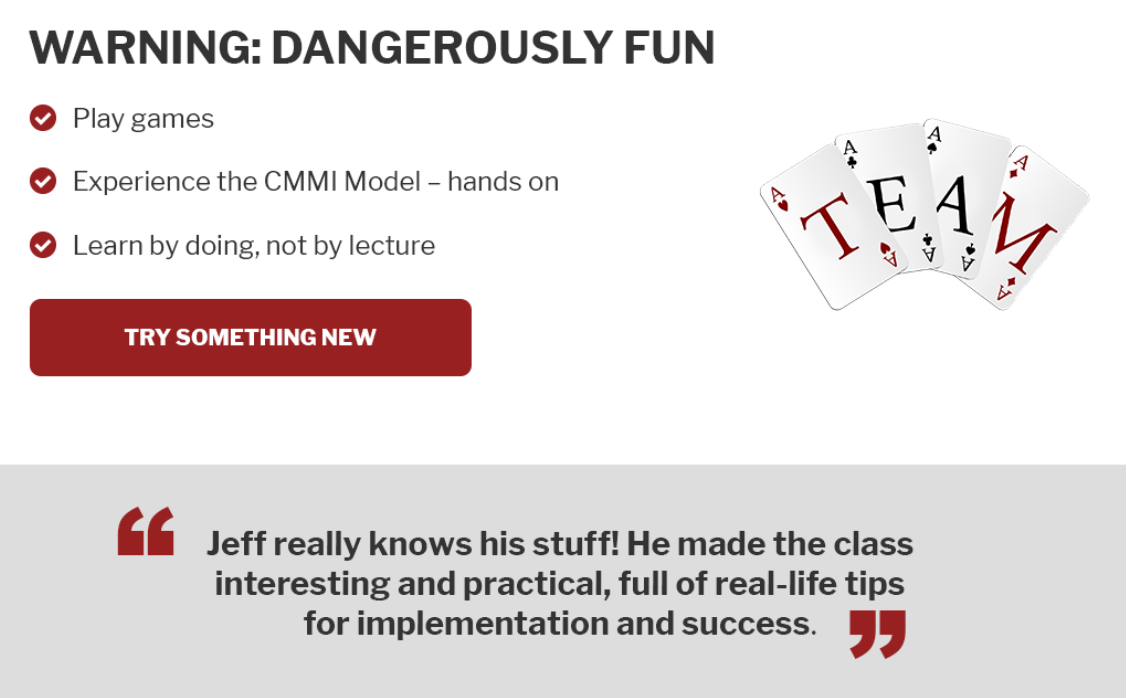 You will learn about:
Project Management
Requirements Development
Systems Design and Development
Process Management
CMMI Appraisals
Transitioning from CMMI v1.3
Agile content within CMMI V2.0
And more!
Note: the new version of CMMI V2.0 uses an online format, so attendees of this class will need a laptop or tablet!
Bonus Content! You won't get this from anyone else!
In addition to the CMMI Institute Authorized course material, Jeff Dalton will present exclusive course modules that have proven to be the highlight of the course, and are only offered by the Original CMMI Badass:
A copy of The Secrets of Benchmarking Appraisals
A copy of Jeff's 2016 book: The Guide to CMMI and Scrum

A copy of Jeff's new book: Great Big Agile: an OS for Agile Leaders (a $42 value)
What else is included with this course?
Bound copy of brand-new CMMI V2.0 Institute Authorized training materials
Course completion certificate
Breakfast and lunch on all days

21 PDUs available for PMPs

Includes the all-new CMMI V2.0 CMMI Associate Certification Exam - right in class!
Then ... stay on for the Agile/CMMI Integration Workshop!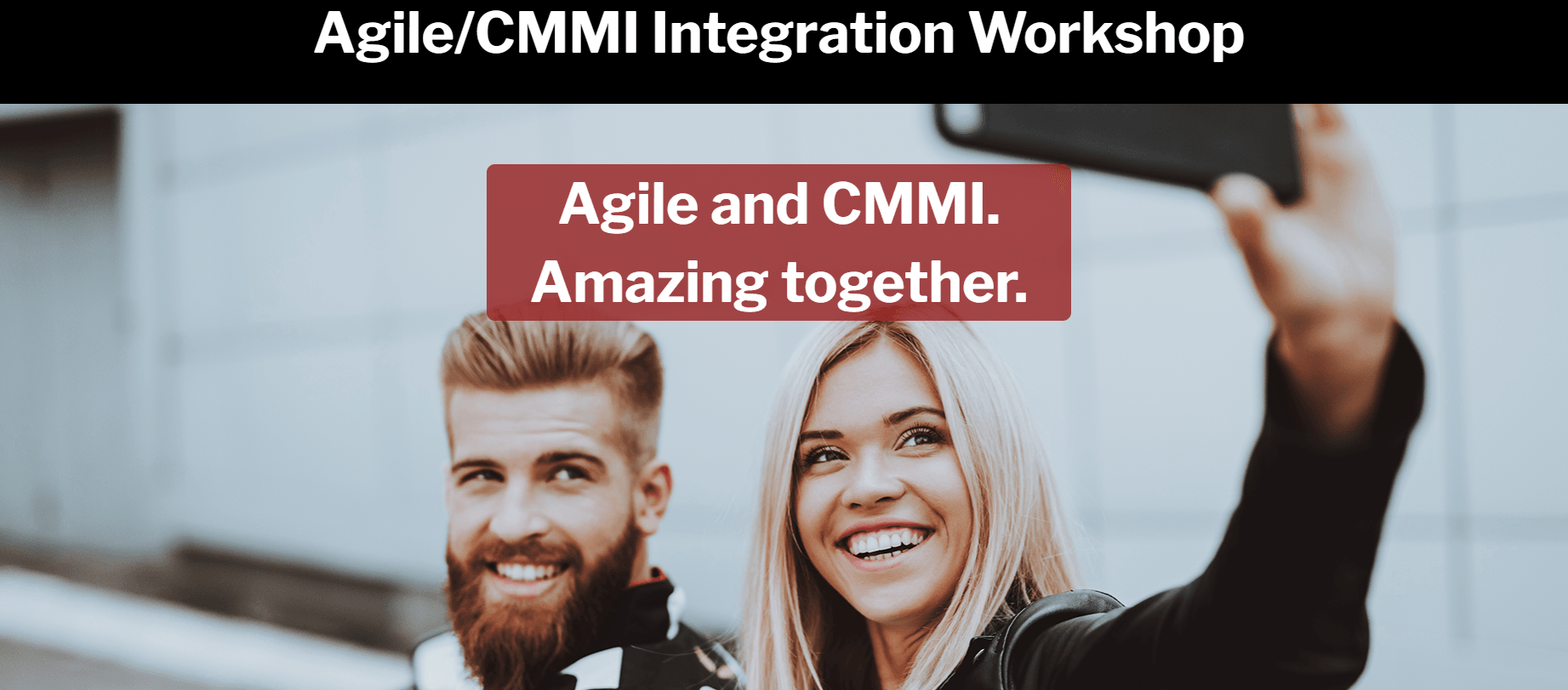 This optional, two-day, hands-on experiential workshop is taking place April 4-5, and is based on the Professional Scrum Master (PSM) and Professional Scrum Product Owner (PSPO) certifications from Scrum.org. You'll learn about all the intersections between Agile and CMMI, and how to combine the two methods to best fit your organization's needs.
Questions?
training@broadswordsolutions.com or call us at 248.871.7772
For more information about us please visit: http://www.broadswordsolutions.com

Cancellation Policy:

Cancellation within seven days will result in no refund of registration fees.
Date and Time
Location
Hilton Garden Inn
3950 Fair Ridge Dr
Fairfax, VA 22033