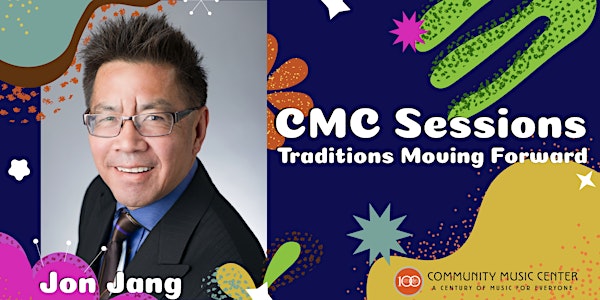 CMC Sessions: Traditions Moving Forward with Jon Jang
Free online music workshops exploring musical traditions in flux.
About this event
CMC Sessions: Traditions Moving Forward
Make musical discoveries with faculty from Community Music Center as they explore their methods, approaches, and creative practices in adapting musical traditions to inspire and guide the musicians of tomorrow. CMC Sessions: Traditions Moving Forward showcases the talents of faculty from the CMC Cultural Traditions and Piano Departments who represent diverse classical and non-classical traditions in workshops and presentations. The online workshops will use video, audio, and lecture-demonstrations to illustrate the faculty members' influences and the musical education that shaped them, highlighting how their traditions impact their teaching and performing at CMC. Their personal stories illustrate the breadth of talent and creativity in CMC's faculty.
Meet these talented and inspiring faculty:
Jon Jang, One Day American, One Day Alien: Black & Brown Artists Who Made the National Anthem Their Own
March 10, 2022 at 7pm (PT)
This presentation examines the music performances of The Star Spangled Banner by American popular music icons of color from 1968 to 2013. Beginning with José Feliciano's passionate performance at a World Series baseball game in Detroit in 1968 to Beyoncé lip synching passionate performance at President Obama's Inauguration ceremony in Washington DC in 2013, these Black and Brown artists had been demonized and criminalized by White America for performing the two minute song, The Star Spangled Banner, in their own way. Jang will also examine the origin of slave owner Francis Scott Key's one-hit wonder, The Star Spangled Banner, within the context of slavery.
This event will be conducted online via video conferencing. RSVP to receive the link to join, emailed prior to the start of the discussion.
People who are interested in this workshop can dive deeper by exploring private lessons and group classes and ensembles.
Bio:
Since 1987, Jon Jang has created a canon of new works reflecting the BIPOC (Black Indigenous People of Color) experience reflecting through an Asian American lens. In October 2000, Jang's work, SenseUS, premiered at Davies Symphony Hall in San Francisco. The work featured a collaboration with musicians Max Roach, John Santos and Jon Jang with poets Sonia Sanchez, Victor Hernandez Cruz and Genny Lim with an ensemble comprised of local musicians. Jang's latest work, Ways to Interrogate History, will premiere at SFJAZZ on February 6. The work features a collaboration with spoken word artist Paul S. Flores with the Jon Jangtet and explores the history of racism through the BIPOC experience.