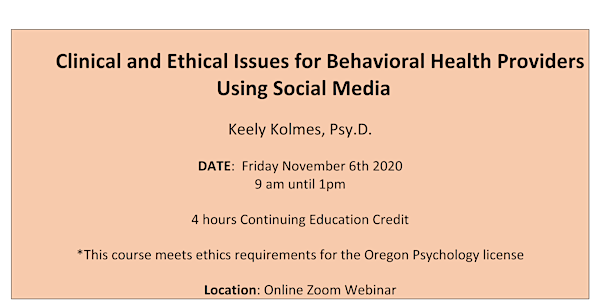 Clinical and Ethical Issues for Clinicans Using Social Media
Refund policy
Contact the organizer to request a refund.
Eventbrite's fee is nonrefundable.
Clinical and Ethical Issues for Behavioral Health Providers Using Social Media. Presented by Keely Kolmes, PsyD
About this event
Central Oregon Association of Psychologist (COAP), a regional affiliate of Oregon Psychologial Association, is offering:
Clinical and Ethical Issues for Behavioral Health Providers Using Social Media
Presented by: Keely Kolmes, Psy.D.
DATE: Friday November 6th 2020
9 am until 1 pm PST (via ZOOM)
4 hours Continuing Education Credit
*This course meets ethics requirements for the Oregon Psychology license
Workshop Overview:
The Internet and social networking are offering a number of new clinical and ethical challenges for those who provide face-to-face mental health services. These challenges include extra-therapeutic contacts between therapists and their clients, questions about what distinguishes personal and professional activities online, and a lack of clearly developed policies related to our online behaviors and interactions.
This course offers an introduction to digital ethics and to various social networking sites and activities and provides guidelines for how to manage the concerns that may arise for practitioners who are using these sites. Applicable ethical standards will be addressed. In addition to use of social media, we will also explore online storage, text messaging/SMS, email, and provision of teletherapy. Attendees will also participate in an exercise to help you develop language for your own social media policies for your practice, your agency, or your training site.
Learning Objectives:
By the end of this course, participants will be able to:
1. Distinguish between one's personal and professional activities on the Internet.
2. Identify the ethical challenges that may arise from engaging in activities on the Internet.
3. Understand some of the legal issues that are relevant to clinicians using social media and other technology in their practices.
4. Appraise the use of e-mail, record-keeping, and mobile computing devices to prevent confidentiality breaches.
5. Construct a social media policy for one's office to address potential boundary issues with clients.
6. Discuss various clinical issues that can arise due to online visibility of both clients and clinicians.
About the Presenter:
*The presenter uses they/them pronouns
Dr. Keely Kolmes spent ten years working in college mental health before starting their private practice. They published their Private Practice Social Media Policy in 2010 and since then, tens of thousands of multidisciplinary providers have adapted this policy internationally. Dr. Kolmes served seven years on the California Psychological Association's Ethics Committee, and they were Chair of the committee in 2019. They are currently serving their second term as CPA's Council Representative to APA. Their practice and research interests include the internet and social media, ethics, and working with people across the full range of sexual and gender expression. They have published a New York Times OpEd on the challenge of online reviews for mental health professionals, and they continue to do research on these topics.
Costs:
For this conference, COAP is using an online registration process that accepts credit and debit cards. The lowest registration rates are associated with early registration, we encourage you to sign up early to make sure you have a spot. This workshop will be capped at 90 registrations.
Registered by 9/25/2020
COAP Member: $95
COAP Non-Member: $105
Registered by 10/29/2020
COAP Member: $105
COAP Non-Member: $115
Registered after 10/29/2020
COAP Member: $115
COAP Non-Member: $125
For members and non-members that enrolled in the 9/25 and 10/2 conference, use code Attendingall3fallworkshops to receive a discount for this workshop. Thank you for attending all our fall workshops!
Student Rate $60
*Membership in COAP is limited to Central Oregon active and retired psychologists, residents, and psychologist associates. You must be current with COAP dues to register at the membership rate. We welcome all allied mental health practitioners to our workshops (at non-member registration rates); receiving Continuing Education credits from various Licensing Boards has not been problematic, assuming the topic meets your Board's criteria.
*COAP Membership is renewed each September, and is active September through August each year. If you have not done so already, you can pay the 2020-21 $25 membership fee online at this link: https://coap-membership-2020-21.cheddarup.com.
**Registration fee will not be refunded for cancellations as of one week prior to the scheduled event, or for no-shows. Prior to that, a $25 cancellation fee will be assessed.
Students are invited to attend for $60. Please bring a copy of student ID with registration, as this will be required at check-in.
Questions can be directed to coassociationofpsychologists@gmail.com
Visit COAP's website at: https://www.coapworkshops.org