CLIMATHON: An Introduction to Change. An innovation workshop and hackathon
About this Event
The fast growth of New York City in recent decades has benefited the American economy, but many challenges threaten the city's prospects for sustainable development. Our residences, civic institutions, art museums, and skyscrapers, many of them stunningly beautiful, may be affected.
New York City's first Climathon in 2020 will focus on the city's landmark attraction — its buildings — including their waste management, energy efficiency, flood resistance, and more. Here are just a few challenges facing the city:
The largest share of New York City's greenhouse gases comes from its more than 1 million buildings. Climate change also affects the city's energy demand. How can we improve energy efficiency in all residential and commercial buildings?
New York City buildings generate millions tons of trash each year and spend billions of dollars to dispose of it. How can we transform the waste system and create convenient recycling solutions to reduce greenhouse gas emissions?
The city is dealing with increasing precipitation levels and longer heat waves that cause infrastructure damage. How can can we make buildings more climate resilient?
Sea levels are expected to rise up to 30 inches by the 2050s. With 520 miles of coastline — more than LA, San Francisco, Miami, and Boston combined — the risk of flood damage to New York City's buildings during big storms is serious.
Climathon goals:
Unite subject experts, developers, entrepreneurs, policy makers, designers, and investors to develop effective solutions for the city's waste management, energy efficiency, construction, and other sectors, making both the city and local businesses greener.
What happens during Climathon: Introduction to Change?
You will connect with companies, city officials, investors, and other partners around a shared vision for a healthier city.
Coaches and experts will help you develop promising solutions and prepare to pitch to a panel of judges and investors who will evaluate the idea.
NYC Climathon Schedule
8:30 - 9:00 a.m. Check-in, morning coffee
9:00 - 10:30 Expert panel discussion. What are the main challenges facing New York in 2020? What new solutions are needed? What are the city's strategic plans and commitments regarding sustainable buildings?
Speakers:
Monica Ridgway, The New York State Energy Research and Development Authority (NYSERDA)
David McCarty, Vice President, Alloy Development
Lauren Brust Moss, Director, Sustainability Services, NORESCO
Charter Williams, NYC Climate Action Alliance
Sarah Currie-Halpern, co-founder, Think Zero
Moderated by: James P. Clark, CEO of the World Technology Network
10:30 - 11:00 Presentation of challenges
11:00 - 11:30 Coffee and participant mingling, teams form around projects
11:30 - 1:30 Hacking. Ideation.
1:30 - 2:00 Lunch
2:00 - 2.15 Workshop by Sabine Valenga, co-founder, Food for All: "User Experience and Messaging in the Age of Sustainability"
2:15 - 6:30 Hacking
6:30 - 7:30 Teams wrap up and pitch their solutions
Judge panel:
Miriam Roure, Program Director, URBAN-X
Terry Choi, Partner, 13Ventures
Brendan O'Flynn, Managing Director, Strategy, BroadRiver Asset Management
Kathy Zhang, founder, Mobility Futures, Columbia University
John-Paul Parmigiani, CEO & co-founder, Impact Hub New York Metropolitan Area
7:30 - 8:00 p.m. Announcement of winners.
We'll share next steps. Possible prizes for winners could be cash or follow-up discussions with New York City officials.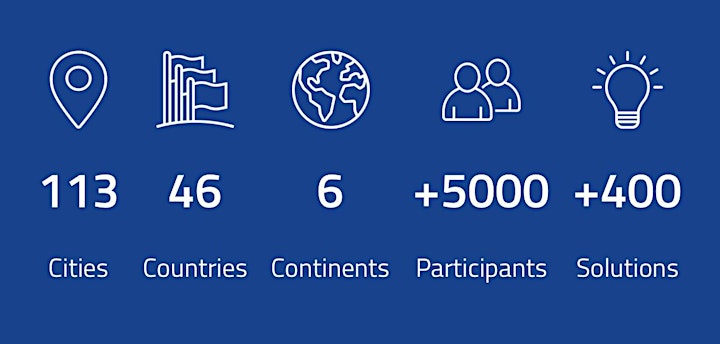 Examples of previous solutions developed by Climathon participants in other cities include:
* An app to track the money companies give to politicians and lobbyists, and how that relates to climate (Houston, U.S.)
* A group of cells that can clean up to 500 kilograms of criteria pollutants per year (Mexico City, Mexico)
* Solar roofs to improve air quality, absorb rainwater, and reduce energy consumption (Paris, France)
* An AR location-based game to reduce carbon footprint by going on missions to cultivate trees and more (San Francisco, U.S.)
* An online platform engaging women to solve waste management problems (Dhaka, Bangladesh)
* Festival sustainability certification and platform (Zürich, Switzerland)
* VR and AR simulations that educate participants about global plastic pollution (Vilnius, Lithuania)
* A garden that will support women refugees to become agro-entrepreneurs (Nicosia, Cyprus)
For other examples of sustainable solutions, please click HERE.
Who can participate?
Entrepreneurs, developers, architects, activists, investors, policymakers and more are invited to come up with innovative solutions to the city's challenges.
You can bring an existing idea to work on, or develop a new solution with a team of people you meet on the day of the Climathon.
---------------------------------------
For sponsorship opportunities, please contact Henry Chung at hchung@vstargency.com or 212-726-4422