Climate Fiction Release Party + Discussion with NRDC & McSweeney's
Created in collaboration with NRDC, McSweeney's Issue #58 features original fiction from 10 noted contributors focused on climate change.
About this event
Join NRDC & McSweeney's Quarterly Concern December 2nd for a Special Release Party Celebrating Our Climate Fiction Issue.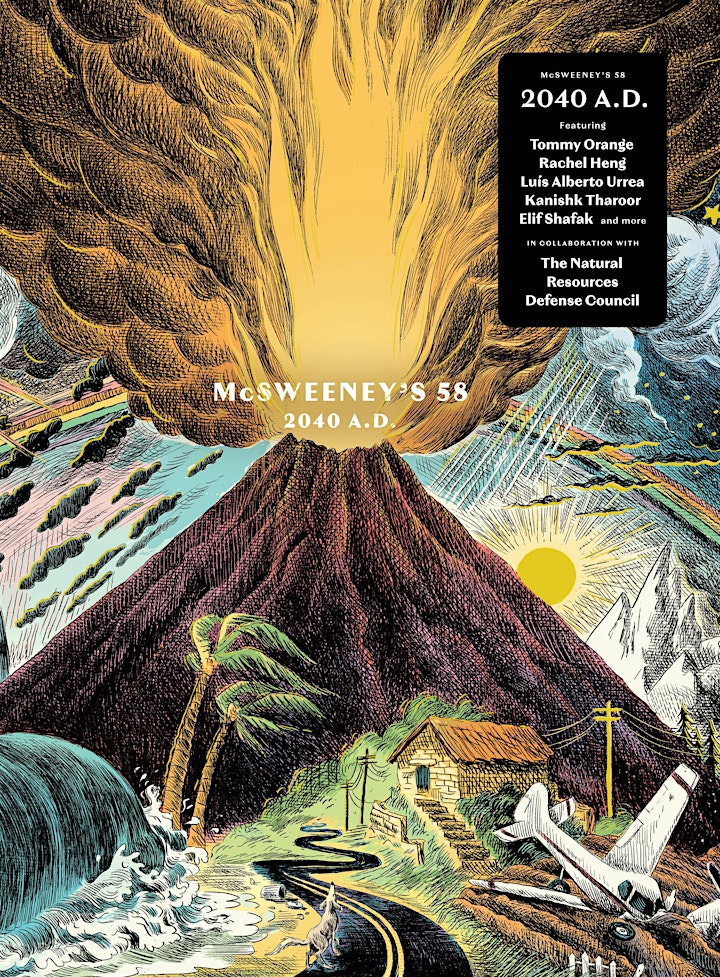 Event Program:
December 2 | 6:00pm-8:00pm | The Tank @ The Chicago Athletic Hotel Association
* Space is limited | Advance ticket registration recommended *
6:00pm - Reception with cash bar featuring a menu of festive cocktails, beer, wine and snacks.
6:30pm - Reading by Luis Alberto Urrea (contributing writer), followed by panel discussion & Q+A featuring Luis Alberto Urrea and Rob Moore (NRDC policy expert), moderated by Shannon Heffernan (Reporter, WBEZ).
7:30pm - Reception continues; McSweeney's Issue #58 available for sale and signing.
8:00pm - Event concludes.
McSweeney's Quarterly Concern | Edited by Claire Boyle, Dave Eggers
Spanning six continents and nine countries—from metropolitan Mexico City to the crumbling ancient aqueducts of Turkey, the receding coastline of Singapore to the coral shores of northern Australia—McSweeney's 58 is wholly focused on climate change, with speculative fiction from ten contributors, made in collaboration with the Natural Resources Defense Council (NRDC). Global in scope, each story is set in the year 2040 and imagines what the world might look like if the dire warnings issued by the Special Report on Global Warming of 1.5 °C were to come true. Using fiction—informed here and there by realism and climate science—this issue explores the tangible, day-to-day implications of these cataclysmic scientific projections. Featuring Tommy Orange, Elif Shafak, Luis Alberto Urrea, Asja Bakic, Rachel Heng, and others, with gorgeous full-color illustrations by Wesley Allsbrook.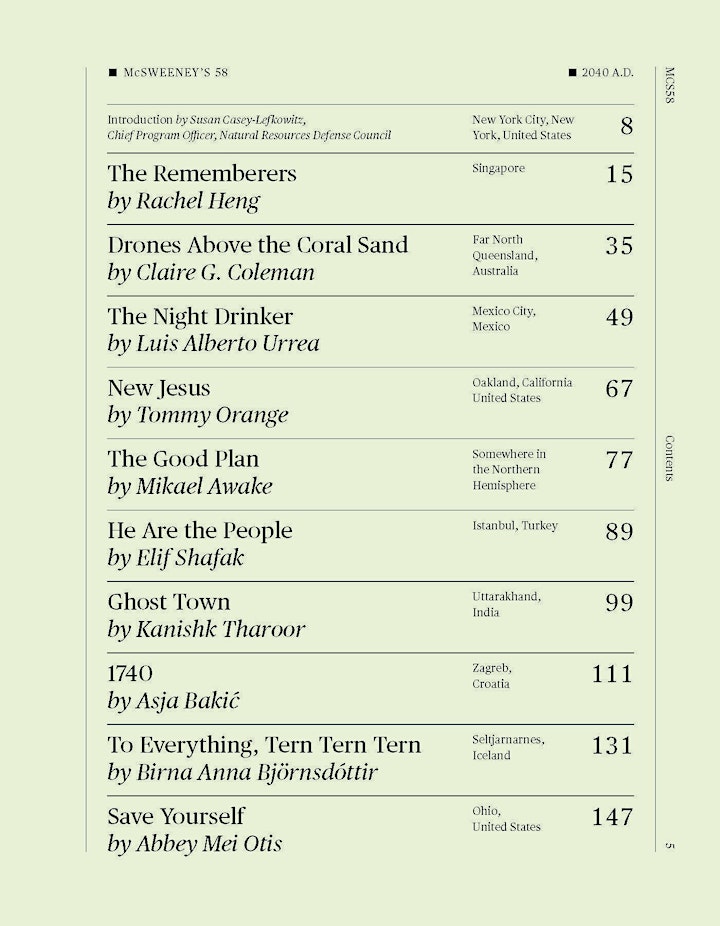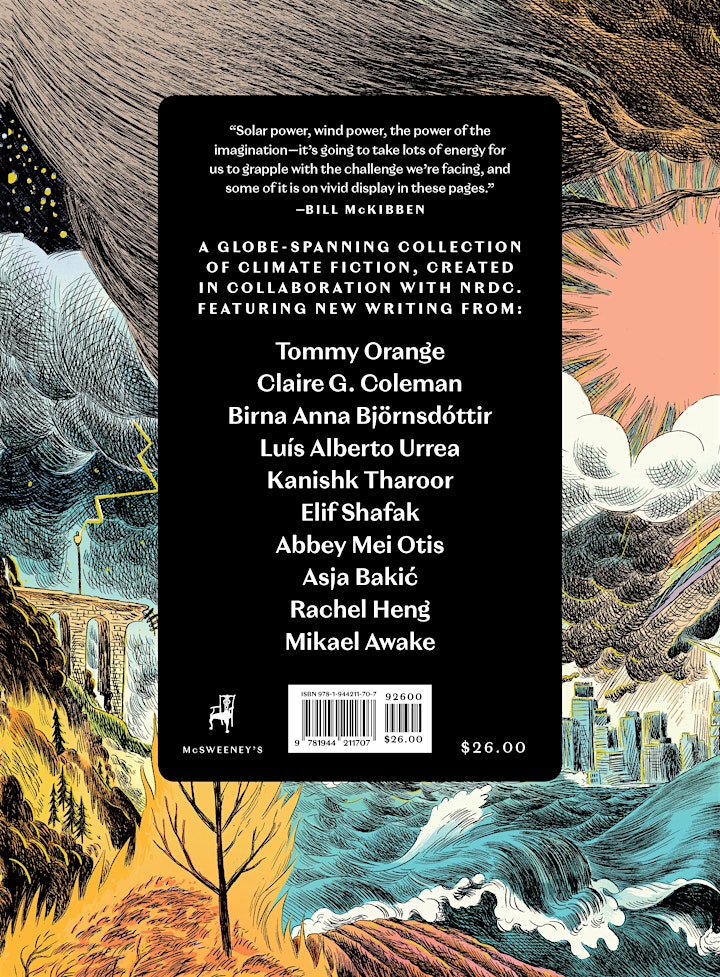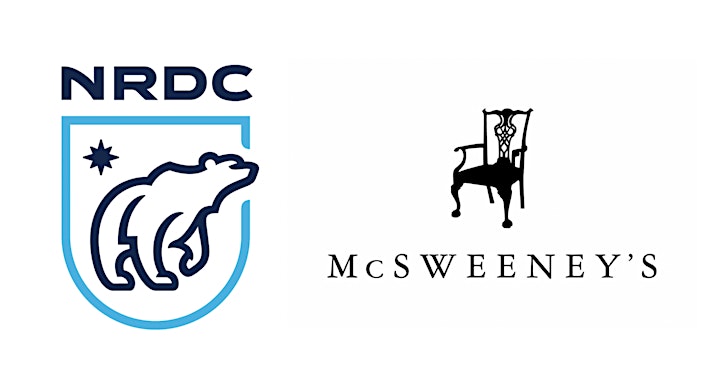 Follow Us on Social
NRDC
McSweeney's
Issue #58 Hashtag
About NRDC
The Natural Resources Defense Council (NRDC) is an international nonprofit environmental organization with more than 3 million members and online activists. Since 1970, our lawyers, scientists, and other environmental specialists have worked to protect the world's natural resources, public health, and the environment. NRDC has offices in New York City, Washington, D.C., Los Angeles, San Francisco, Chicago, Bozeman, MT, and Beijing. Visit us at www.nrdc.org and follow us on Twitter @NRDC.
About McSweeney's
McSweeney's is an independent nonprofit publishing company based in San Francisco. As well as operating a daily humor website, we also publish Timothy McSweeney's Quarterly Concern, Illustoria and an ever-growing selection of books under various imprints.
About Chicago Athletic Association (CAA)
Located on Chicago's famed Michigan Avenue across from iconic Millennium Park in the Loop District, the Chicago Athletic Association hotel combines its storied legacy as one of the nation's most revered social clubs with modern day sophistication. The historic building's transformation into a 240-room boutique hotel is the result of a visionary partnership between Commune Hotels + Resorts, AJ Capital Partners, Geolo Capital, Agman Partners, Chicago-based Hartshorne Plunkard Architecture, and award-winning design firm Roman and Williams Building and Interiors. The hotel, now managed by Hyatt Hotels Corporation, features 17,000 square feet of stunning event space with sweeping views of Lake Michigan, elegantly-appointed guest rooms and uniquely-designed suites, and multiple innovative culinary experiences. The seven food and beverage outlets include Cindy's, a rooftop restaurant and bar, restaurant concepts by Chicago-based Land & Sea Dept., Shake Shack, and Fairground Coffee & Tea. The Chicago Athletic Association hotel is now a part of World of Hyatt, offering guests and groups a robust loyalty and recognition program with rewards at 900+ hotels and resorts worldwide. For reservations or more information, please visit chicagoathletichotel.com or call 312.940.3552. Stay connected with Chicago Athletic Association hotel on Facebook, Twitter, and Instagram.
Organizer of Climate Fiction Release Party + Discussion with NRDC & McSweeney's
NRDC (The Natural Resources Defense Council) is an international nonprofit environmental organization with more than 3 million members and online activists. Since 1970, our lawyers, scientists, and other environmental specialists have worked to protect the world's natural resources, public health, and the environment. NRDC has offices in New York City; Washington, D.C.; Los Angeles; San Francisco; Chicago; Bozeman, Montana; and Beijing. Visit us at www.nrdc.org and follow us on Twitter @NRDC