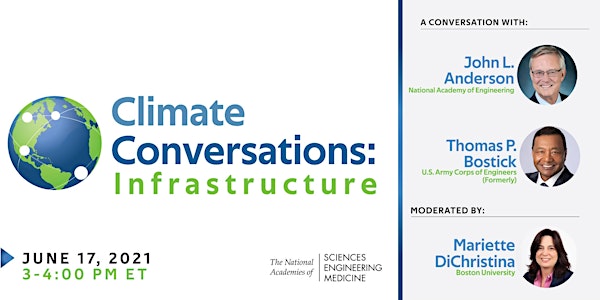 Climate Conversations: Infrastructure
Join us for a conversation on the role of infrastructure and engineering in building a climate resilient future.
About this event
Mariette DiChristina (Boston University) will moderate a conversation with John L. Anderson (President of the National Academy of Engineering) and Thomas P. Bostick (former Commanding General of the U.S. Army Corps of Engineers) about the different kinds of infrastructure and systems susceptible to climate impacts, the wide range of engineering solutions that can play a role in building a resilient and net-zero future, and the ways to help prepare the next generation of engineers for such a monumental task.
The conversation will be webcast on the Climate Conversations webpage today! Register here if you'd like to receive future updates. Otherwise, feel free to join us directly on that page at 3:00 pm ET.
Climate Conversations: Pathways to Action is a new monthly webinar series from the National Academies of Sciences, Engineering, and Medicine that aims to convene high-level, cross-cutting, nonpartisan conversations about issues relevant to national policy action on climate change.
Participant Bios
John L. Anderson is the President of the National Academy of Engineering. He was most recently Distinguished Professor of Chemical Engineering and president of the Illinois Institute of Technology. Before that he was provost and executive vice president at Case Western Reserve University, following 28 years at Carnegie Mellon University and 5 years at Cornell University.
Thomas P. Bostick is a Senior Executive with more than 30 years of experience in both the public and private sectors. He served as the 53rd Chief of Engineers and Commanding General of the U.S. Army Corps of Engineers, where he was responsible for most of the Nation's civil works infrastructure and military construction. An expert in crisis response, he controlled the nuclear codes during the tragic events of 9-11, and he led the nation's recovery effort following Hurricane Sandy.
Mariette DiChristina is the dean of the College of Communication at Boston University and a nationally recognized science journalist, most recently as editor-in-chief and executive vice president of Scientific American.