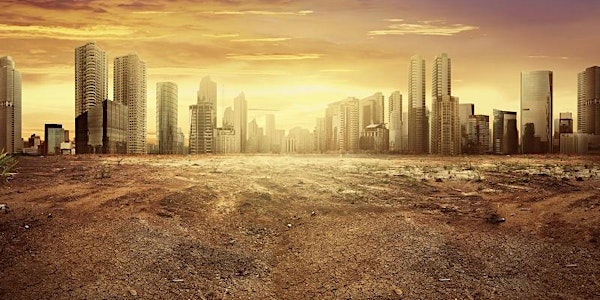 Climate Change, Health and Climate Justice in the World's Cities
Event Information
Location
Glasgow Caledonian New York College (GCNYC)
64 Wooster St
New York, NY 10012
Description
During the World Economic Forum held in January 2019 in Davos, Sir David Attenborough underscored the threats posed by anthropogenic climate change to both humankind and the planet, and cautioned world leaders that "if we damage the natural world, we damage ourselves."
Indeed, the current and future impacts of climate change on people's health and wellbeing are of growing concern for local communities and decision-makers around the globe, especially in urban areas where the majority of the world's population now resides. According to the World Health Organization (WHO), air pollution and climate change are among the top ten threats to global health in 2019, and between 2030 and 2050, climate change will claim around 250,000 lives every year due to malnutrition, heat stress, and other climate-related causes. These health risks, particularly pressing for the poor and marginalized, should be considered an issue of climate injustice.
With this in mind, the Centre for Climate Justice at Glasgow Caledonian University is organizing a Townhall to foster an exchange of ideas and to advance collaboration to combat the negative health impacts of climate change in the world's cities. The event will provide an opportunity to discuss this serious challenge in anticipation of the inaugural World Forum on Climate Justice to be hosted by the Centre for Climate Justice in June 2019 in Glasgow, Scotland.
Event Programme

5:30pm - Registration and refreshments
6:00pm - Welcome and introductions
6:05pm - Fair Fashion Center - Cara Smyth
6:15pm - The Centre for Climate Justice at GCU - Professor Tahseen Jafry
Panel Discussion - 'Climate Change, Health and Climate Justice in the World's Cities'
7:00pm - Closing Remarks
7.10pm - Networking and refreshments
8.00pm - Close
Profiles
Professor Tahseen Jafry
Director, The Centre for Climate Justice
Professor Jafry has pioneered The Centre for Climate Justice at Glasgow Caledonian University. With an initial partnership with the Mary Robinson Foundation for Climate Justice she has developed a sound academic base for climate justice research and learning/teaching. Professor Jafry is qualified as both an engineer and a social scientist and has accumulated extensive research and development experience over 20 years. Her work has spanned 14 countries in the Global South covering Sub-Saharan Africa, South Asia and the Small Island States. She is an experienced lecturer at both the postgraduate and undergraduate courses on environmental management, sustainability and climate justice and supervises theses to doctorate level. Tahseen's current research interests include the justice and equity aspects of climate change, gender and poverty targeting, the management of natural resources, the geo-political nature of climate justice and the psycho-social impacts of climate change.
Cara Smyth
Vice-President and Executive Board Member, GCNYC
Cara Smyth is Vice President of Glasgow Caledonian New York College (GCNYC) the first international institution of higher education in the United States to receive degree granting authority, and founder of the Fair fashion Center (FFC). An executive board member of Glasgow Caledonian, Ms. Smyth is responsible for establishing the University's New York campus and instilling its mission "For the Common Good" in all of its programs and initiatives.
Recognizing the integrated issues facing both the fashion industry and the world, Ms. Smyth leveraged her extensive apparel industry expertise to launch The Fair Fashion Center (FFC), focusing on intersection of profitability and sustainability. Collaborating with 35 CEOs (representing 242 brands, $256B in annual business and 11% of the global business) on collective action, the FFC is operationalizing systemic change. Creating a paradigm shift, the FFC is redesigning the industry by facilitating the incorporation of sustainable practices into fashion, proving the business for sustainability.
A veteran in retail and wholesale business, Ms. Smyth joined the school from an illustrious career of management, brand building and global scaling. She is the former CEO of Menichetti International, a director at Burberry Prorsum and a former President of Jil Sander America.
Panel Profiles
Brian Tokar
Lecturer, Rubenstein School of Environment and Natural Resource, University of Vermont
Brian Tokar has been an activist, author and a well-known critical voice for ecological activism since the 1980s. He is currently the director of the Institute for Social Ecology and Lecturer II in Environmental Studies at the University of Vermont. Brian's books include The Green Alternative (1987, revised 1992), Earth for Sale (1997), and Toward Climate Justice: Perspectives on the Climate Crisis and Social Change, which was reissued in an expanded and revised edition by the New Compass Press in 2014. He edited two books on the politics of biotechnology, Redesigning Life? and Gene Traders, and co-edited a recent collection, Agriculture and Food in Crisis: Conflict, Resistance and Renewal (with UVM Professor Emeritus, Fred Magdoff). His articles on environmental issues and popular movements appear in Z Magazine and Green Social Thought, and on popular websites such as Counterpunch, ZNet, Alternet, and Toward Freedom.
Brian has lectured throughout the U.S., as well as internationally, received a Project Censored award for his investigative history of Monsanto (originally published in The Ecologist), and was an organizer of the annual "Biojustice" protests focused on the biotechnology industry from 2000 - 2007. He is a board member of 350Vermont, as well as a contributor to the Routledge Handbook of the Climate Change Movement, A Line in the Tar Sands, and other recent books. Brian also represents UVM's part-time faculty on the Executive Council of our faculty union, United Academics.
Cecil Corbin-Mark
Deputy Director and Director of Policy Initiatives, WE ACT for Environmental Justice, New York
Cecil Corbin-Mark is WE ACT for Environmental Justice's (WE ACT) Deputy Director and Director of Policy Initiatives. He holds a BA from Hunter College in Political Science and a M. Phil. in International Relations from Oxford University in England. Prior to joining WE ACT, Cecil worked for the following: the Bronx County District Attorney, NYS Justice Hon. W. T. Martin, the Mellon Minority Scholars Program and the NY Public Library.
He currently serves on the following boards: Center for Environmental Health, Clean and Healthy New York, the Louis E. Burnham Fund, the West Harlem Development Corporation, and Friends of the Earth USA. He was the recipient of the 2010 Earth Day New York Award and the 2018 Marshall England Memorial Public Health Award.
Jackie Moran
Neighborhood Resiliency Specialist
Systems Partnerships | Center for Health Equity
NYC Department of Health and Mental Hygiene
Jackie Moran is the Neighborhood Resiliency Specialist in the Center for Health Equity at the New York City Department of Health and Mental Hygiene (DOHMH). She focuses on neighborhood-based approaches to response, expanding the definition of emergencies through a health equity lens, and furthering community resilience and emergency preparedness in neighborhoods that have historically been deprived of sufficient resources and attention.
She has previously served as a community-based planner for DOHMH's emergency field operations. In her role, she created language access plans for emergency field operations, integrated community organizations into the agency's emergency response structure, and wrote emergency plans and trainings inclusive to the needs of the disability community.
Prior to this role, Jackie worked at the NYC Mayor's Office. Her portfolio included emergency management, community health, and environmental education. She was introduced to NYC local government through participation in the development of OneNYC: The Plan for a Strong and Just City. Jackie has worked with local communities around climate justice, public health, and urban planning in Washington, D.C., Costa Rica, Ecuador, Belgium, Russia, Kenya, Haiti, and her hometown of NYC. She is an AmeriCorps alumna and graduate of American University's School of International Service.
Date and time
Location
Glasgow Caledonian New York College (GCNYC)
64 Wooster St
New York, NY 10012