Description
The internet is getting more powerful, and less secure. And with the rise of "smart" technology, everything is essentially a computer: phones, cars, beds, homes, planes, power plants, and even cities. We're heading into uncharted technological territory, where life and property are just as vulnerable as privacy and data.

In his latest book, Click Here to Kill Everybody: Security and Survival in a Hyper-connected World, Bruce Schneier—one of our most provocative and authoritative voices on cybersecurity—lays out some of the unsettling issues we're facing today, and puts forth some bold, innovative solutions.

Join us for a fascinating conversation with Schneier, together with Darren Walker and Manoush Zomorodi, as they discuss the risks that come with the latest technology—and what we can do to respond.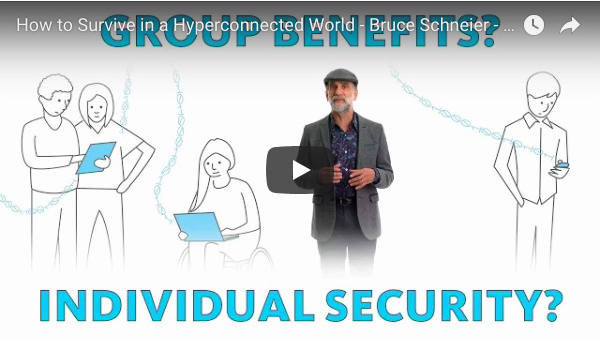 Bruce is part of a larger community that wants to see technology serve the greater welfare of society. We call this #PublicInterestTech! Explore more in the video above.
Accepting this invitation means you agree to receive communications from Ford about this event.
---
Let's keep in touch!
Sign up for our email list to learn about the latest Ford Foundation events, news, and ideas. If you're already on our list, hello! We hope you'll take a moment to update your preferences, so that we can send you invitations and content that reflect your interests.
Your privacy matters to us: Please read our privacy policy here. By joining our list you agree to receive emails from the Ford Foundation, and grant us the right to collect and use behavioral cookie and demographic data for our own future marketing purposes.