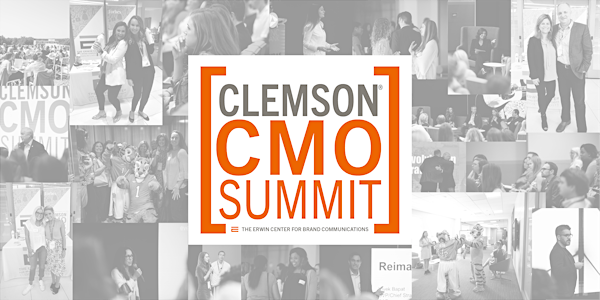 Clemson CMO Summit Series | Kickoff Event 9/25 at Noon EST 2020
The Erwin Center is hosting this year's Clemson CMO Summit virtually with a keynote event from Noon-2:30 p.m. EST on 9/25.
About this event
As part of our mission to educate future brand leaders, the Erwin Center for Brand Communications is hosting Clemson University's 2nd Annual CMO Summit through a virtual series in partnership with Forbes.
The Clemson CMO Summit Series brings brand and agency leaders together to discuss topics related to this year's theme, "Crisis, Culture, & Community: Adapting in a World of Change," with our students, faculty and industry professionals in a collaborative virtual setting.
September 25th Virtual Kick Off Event: Initial keynote speakers will be kicking off this Fall's sessions on Friday, September 25th, 2020 from Noon-2:30 p.m. EST. Additional virtual sessions will be provided throughout the Fall 2020 semester.
How to Join the Events: Those who register will receive Zoom links to join the live events virtually. Recordings will be provided following each event.
Future Virtual Dates & Times: Registrants will receive email updates throughout the Fall with new session dates and times as details are finalized. The following sessions are currently scheduled. Please mark your calendar.
Mon. 10/5 | 3-4:30 p.m. (EST)| Jay Watson, CEO, Forefront Networks (with panel)
Thurs. 10/22 | 2-3:15 p.m. (EST) | Kevin Purcer, Sr. Director, Customer Digital Experience, Chick-fil-A (with panel)
Tues. 10/27 | 5-6:00 p.m. (EST)| Mark Schaefer, author of Marketing Rebellion, with Clemson's Department of Marketing
Mon. 11/16 | 11-Noon (EST) | Dave Paulus, Global Alliance Leader, Merkle/Dentsu Aegis Network
Mon. 11/23 | 3-4:00 p.m. (EST)| Vivek Bapat, SVP – Purpose and Brand Experience, SAP