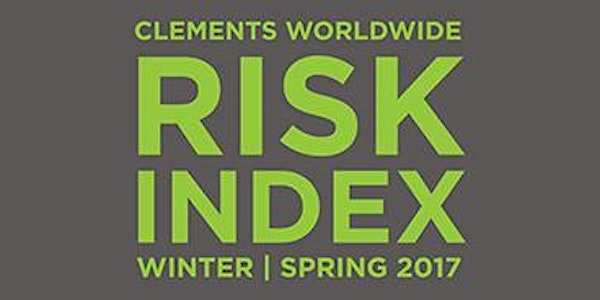 Clements Worldwide Risk Index Launch
When and where
Location
St. James' Court Hotel 54 Buckingham Gate London SW1E United Kingdom
Description
Join us for the launch of the Clements Worldwide Risk Index in London where we will be sharing data from organisations already operating internationally. We will discuss top losses and concerns that organisations are facing in an increasing complex world. The Winter/Spring 2017 Clements Worldwide Risk Index will be exploring key trends related to:
Elections, economic downturns, refugee concerns, strikes, riots, protests; and the financial/security risks these pose.

Emerging risks from new legislation, trade barriers, currency fluctuations and amendments to the law and how organisations can protect themselves from these costly challenges.

Cyber liability and terrorism that continue to shape the global environment.
We will be joined by an esteemed panel of speakers who will provide further insight into the changing landscape of risk in 2017.
Panelist:
William Shawcross CVO - Panelist - UK Charity Commission
William Shawcross joined the Charity Commission as Chair in October 2012. William has broad charity sector experience, particularly in human rights and international aid. William is a multi published author, and has written on the work of aid agencies and international organisations in his books 'The Quality of Mercy - Cambodia, genocide and Modern Conscience' and 'Deliver Us From Evil - Warlords and Peacekeepers in a World of Endless Conflict'.
Graham MacKay - Panelist - Bond Organization
Graham MacKay is Bond's chief operating officer. He is responsible for ensuring Bond is run well and can deliver on the different areas of work and connecting with other COOs in the sector to explore the common issues affecting all international development organisations. He has a background in humanitarian work where he has worked in over 20 different countries and crises as well as a background in scientific research where he has a PhD. He is currently responsible for running Bond while a new CEO is recruited.
Ibrahim Ozkaratan - Panelist - Clements Worldwide
Ibrahim has over 12 years of commercial and employee benefits insurance experience. He obtained this through roles both on the brokering and underwriting side, giving him a full understanding or risk and the schemes available to mitigate such risk. Being a frequent traveler he understands the expatriate model and that of international organisations.
Sergio Sanchez - Moderator - Clements Worldwide
Sergio is a multilingual global marketing leader with more than 24 years of national and international accomplishments. He has extensive global branding, market/channel partner strategy and web-based product delivery experience, with marketing innovation, event and media management expertise. Focus on revenue/lead generation through viral, integrated, acquisition-oriented campaign execution; rapid response direct marketing, conversion and leveraging social, mobile/online channels.