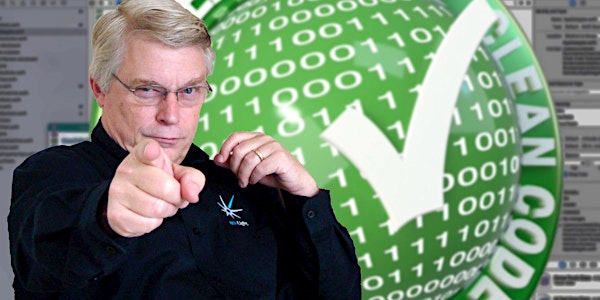 Clean Architecture! 2 days with Uncle Bob in Santa Monica, CA
When and where
Location
Patient Pop The Huntley Hotel 1111 2nd Street Santa Monica, CA 90403
Refund Policy
Refunds up to 7 days before event
Eventbrite's fee is nonrefundable.
Description


Clean Architecture is Bob's newest book. This is the 2nd public course given based on the new book. You don't want to miss this!
Drawing on over a half-century of experience in software environments of every imaginable type, Martin tells you what choices to make and why they are critical to your success. As you've come to expect from Uncle Bob, this class is packed with direct, no-nonsense solutions for the real challenges you'll face—the ones that will make or break your projects.
Learn what software architects need to achieve—and core disciplines and practices for achieving it
Master essential software design principles for addressing function, component separation, and data management
See how programming paradigms impose discipline by restricting what developers can do
Understand what's critically important and what's merely a "detail"
Implement optimal, high-level structures for web, database, thick-client, console, and embedded applications
Define appropriate boundaries and layers, and organize components and services
See why designs and architectures go wrong, and how to prevent (or fix) these failures
Clean Architecture Course Outline
I. Starting with the Bricks
A. The Goal of Architecture
B. Paradigms
1. Structured Programming

2. Object Oriented Programming

3. Functional Programming

C. Principles of Module Design
1. SRP SIngle Responsibility

2. OCP Open Closed

3. LSP Liskov Substitutability

4. ISP Interface Segregation

5. DIP Dependency Inversion
D.
Component Design Principles
1. Component Cohesion
a) REP Release-Reuse
b) CCP Common Closure
c) CRP Common Reuse
2.
Component Coupling
a) ADP Acyclic Dependencies
b) SDP Stable Dependencies
c) SAP Stable Abstractions
II. Architecture
A.
What is Architecture?
1. The Two Values

2. Examples

B. Independence and Decoupling
1. Independent Deployability

2. Independent Developability

3. Decoupling Layers

4. Decoupling Use-Cases
C. Boundaries
1. Drawing Lines
2. FitNesse
3. The Plugin Argument
D. Boundary Anatomy
1. Monoliths
2. Components
3. Processes
4. Services
E. Policy and Level
F. Business Rules
1.
Entities and Use Cases
G. Screaming Architecture
H. The Clean Architecture
1. The Dependency Rule
2. Interface Adapters
3. Frameworks and Drivers
I. Presenters and Humble Objects
1. Testing and Architecture
J. Partial Boundaries
K. Layers and Boundaries
L. The Main Component
M. Services Great and Small
1. The "Kitty" problem
N. The Test Boundary
1. Design for Testability
2. The Testing API
III. Details
A. The Database
B. The Web
C. Frameworks
Learn about keeping your Architecture Clean with Uncle Bob in Santa Monica, CA. He wrote a book about it ya-know.
Snacks and beverages will be available during the class-time.
Brought to you by:

Patient Pop
FAQs
Where can I contact the organizer with any questions?
Angela@cleancoder.com
Do I need my laptop?
Great idea. Have it loaded with your favorite IDE!
Can I get my book signed?
Sure! Bring one with! Bob will be there.