Classically Cuban Concert | Together: In Memory of Carlos Averhoff, Sr.
Description
The Cuban Research Institute is pleased to announce the 13th installment of its annual concert series. This year's concert will be dedicated to Afro-Cuban and Latin jazz, in memory of the renowned Cuban saxophonist and former FIU music professor, Carlos Averhoff, Sr. The event will be directed by his son Carlos Averhoff, Jr., in collaboration with artists who performed alongside Averhoff, Sr., including Grammy Award-winning trumpeter Brian Lynch, Elena Burke, Federico Brito, Mike Orta, Aldo Salvent, Jim Gasior, and Manuel Valera.
Carlos Averhoff, Sr., was a recognized tenor saxophonist in the Latin jazz world, as well as an educator. Born in Matanzas, Cuba, he graduated from Havana's Conservatorio Amadeo Roldán with a major in classical music. In 1973 he was a founding member of the world-renowned Cuban jazz group Irakere. In 1980, he received a Grammy Award for the album Irakere. Throughout his lifetime, he collaborated with prominent musicians such as Chucho Valdés, Paquito D'Rivera, Gonzalo Rubalcaba, Emiliano Salvador, and Horacio "El Negro" Hernández. He was a Professor of Music at Florida International University until December 2016.
Carlos Averhoff, Jr., is a tenor saxophonist, bandleader, composer, and educator. Born in Havana, Cuba, he was classically trained in Cuba's top music schools: the Manuel Saumel Conservatory of Music, the Amadeo Roldán School of Music, and the Higher Institute of Art. He continued his education in the United States, receiving a bachelor's degree (Summa Cum Laude) at the Berklee College of Music and a master's degree with honors from the New England Conservatory of Music. He recently earned a teacher fellow position at the University of North Texas in Denton, where he started his doctoral studies.
Handicapped Tickets:
We are providing special seats for those with walking disabilities among our attendees. Keep in mind that if you select a handicapped ticket(s), you will NOT be allowed to sit with your family member due to the limited nature of the seats available. Furthermore, you will NOT be permitted to sit in the handicapped section if you do not have a walking disability and we might have trouble finding you a seat after you have purchased a ticket for the wrong section if the Concert Hall is full.
Discounts:
For discounts, click on the blue down-arrow next to the ticket type in the Ticket Selection Window and a select a category. Each ticket type will be verified (i.e. If you are a student, you will need to show your student ID at the entrance on the day of the concert. The same applies to FIU Faculty, Staff, and Alumni).

System Specifications:
To access the seating chart, it is best to use one of the following browsers. Keep in mind that if you use a different internet browser or older versions of the ones listed below, you might not be able to access the seating chart and you will be unable to select your seats.
• Chrome 31 and higher
• Firefox 35 and higher
• Safari 7.1 and higher
• Internet Explorer 11 and higher
• iOS 8.1 and higher (Safari mobile & Chrome 19 mobile)
• Android 37 (Chrome 40 mobile)
If you still have trouble selecting your seats, do not hesitate in contacting our office at (305) 348-1991.
FIU MAP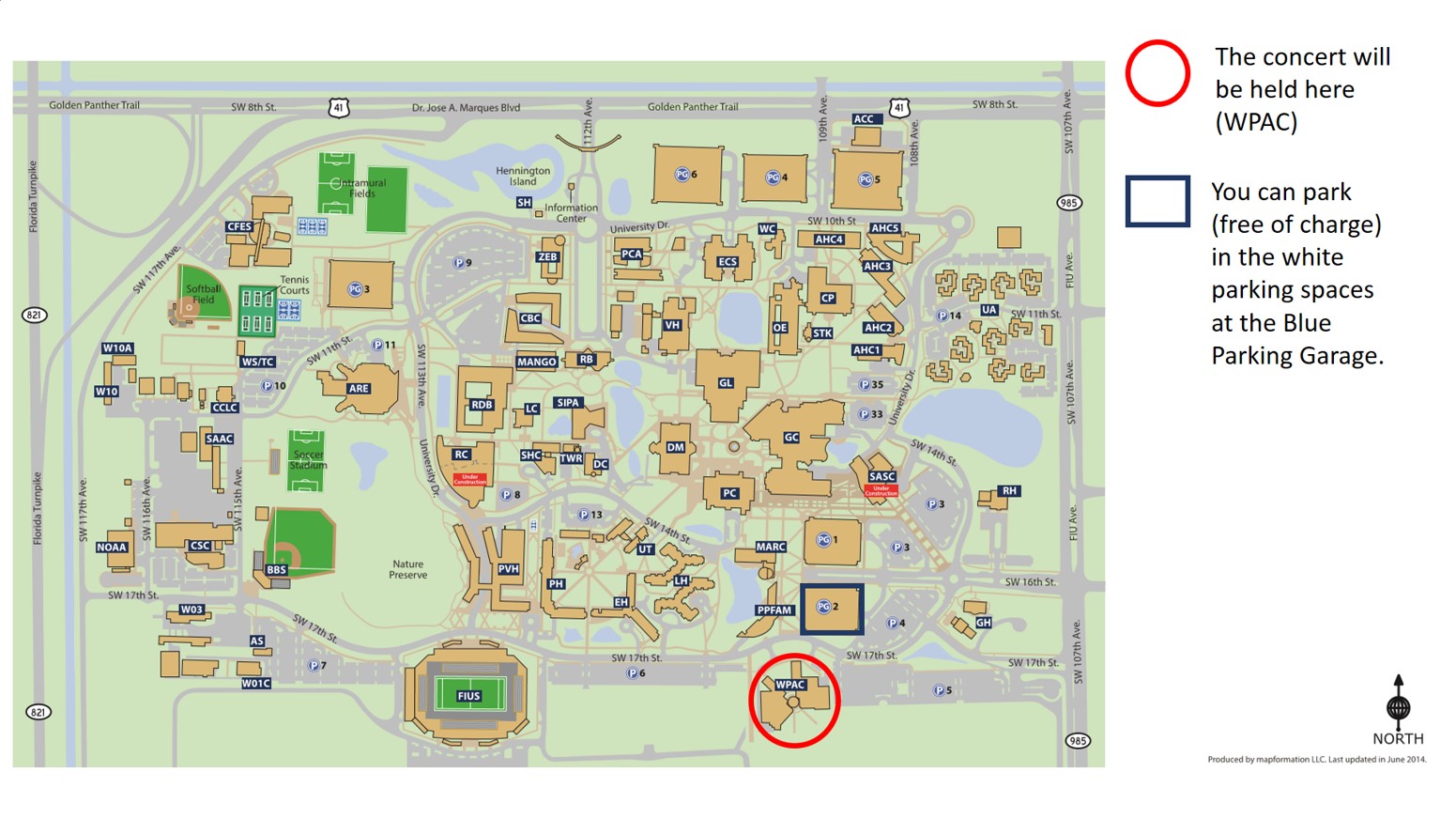 Click on this link to view a larger version of the map