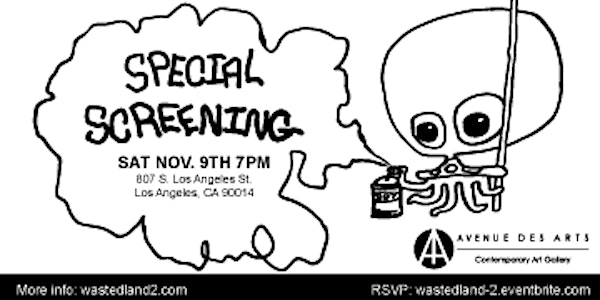 "Classic Episodes" by UFO907 - Closing and Screening of WASTEDLAND 2
Screening of "Wastedland 2" a story & film by Andrew H. Shirley
When and where
Location
Avenue des Arts 807 South Los Angeles Street Los Angeles, CA 90014
About this event
Avenue des Arts is proud to present UFO907's first US solo exhibition, "Classic Episodes". New York's Graffiti scrawling Legend brings it to Los Angeles and true to form coming with another prolific body of 39 unique new works. Twenty-one of which are custom built shaped canvases breaking free from the confines of the traditional canvas. With these dynamic new works UFO steps boldly onto the wall to meet the viewer eye to eye. Drawing from the wealth of personal experiences as well as pop culture and media references of his day, UFO907 brings us otherworldly interpretations of "Classic Episodes" found in everyday life. Classics such as the Jordan clad skateboarding teenager or the Graffiti vandal escaping by bike, leaving a trail of tags in his midst. UFO's eclectic subject matter runs the gamut with paintings recalling childhood innocence, the origins of man, and even the age old battle between ketchup and mustard.
On Saturday November 9th the show will close out with a screening of the existential punk fantasy film inspired by UFO 907's artwork entitled Wastedland 2.
The films director, Andrew H. Shirley and artist UFO 907 who have spent years together on misadventures from painting NYC streets to hiking the Appalachian Trail. The film was both an autobiographical homage Shirley made to UFO, as well an art piece that allowed UFO to showcase his three dimensional artwork.