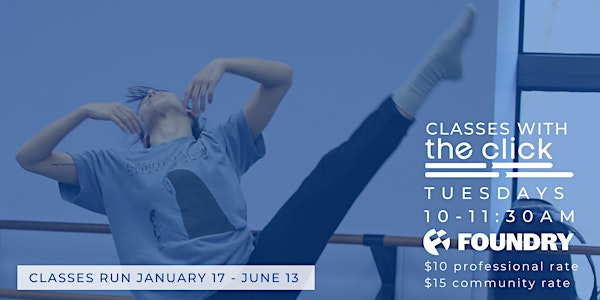 Multiple dates
Classes with The Click
Train with The Click with this rotating roster of contemporary dance classes designed for *intermediate to advanced* dancers.
Date and time
January 17 · 10am - June 13 · 11:30am EST
Location
The Foundry 101 Rogers Street Cambridge, MA 02142
About this event
Collaborative play is at the heart of all that we create and present: this class series is rooted in our philosophy of recognizing the power of individual voice in conjunction with the power of collective presence. Each class will have a contemporary-focus, with a twist of individuality that speaks to the Click instructors' interests and specialties within the field.
This weekly company class is held on Tuesdays at The Foundry and is intended for intermediate to advanced dancers. If you are looking for an all-levels or slower-paced contemporary class, please check out our Community Contemporary class on Thursdays at The Dance Complex.
Schedule:
January 17: Lonnie
January 24: Lonnie
January 31: Kristin
February 7: Audrey
February 14: Audrey
February 28: Audrey
March 7: Alex
March 14: Rachel
March 28: Audrey
April 4: Lonnie
April 11: Lonnie
April 25: Kristin
May 2: Kristin
May 16: Lonnie
May 23: Audrey
May 30: Kristin
June 6: Rachel
June 13: Kristin
About the Classes:
INDULGE with RACHEL LINSKY
Rachel's contemporary class fuses Limón technique with Contemporary release technique. Class will begin with a series of strengthening exercises to center mind and body and to set up safe alignment. From there, dancers will push their ability to fall off of and return to center, while exploring a balance of weight and weightlessness in the upper body, groundedness and release into the floor, and their ability to smoothly transition from one place to the next. After a center warm-up, dancers will move expansively across the floor progressing into indulgent, expressive, and athletic phrase work.
BIG AND SMALL MOVES with AUDREY MACLEAN
Class will explore how the subtlety of movement can still be expansive and carry momentum. As that momentum builds we will continue to pay attention to how the underlying details influence our movement. Through improvisation and phrase work we will find our way in and out of the floor as we explore big (and small) moves.
JAM with ALEXANDRIA NUNWEILER
This class fights for your right to party. Led by curiosity, JAM pulls from contemporary and modern techniques to get all bodies moving to their internal rhythm with the intention to better understand what we are doing inside and outside of ourselves. You can expect improvisational play, juicy floorwork, maybe a few swear words, and a killer playlist.
CONTRASTING CONTEMPORARY with LONNIE STANTON
This contemporary class will explore contrast in movement based on the Laban Effort Graph. We will explore the use of weight, flow, time, and space throughout warm up and in phrase work. The importance of conscious and generous breathing will be centered on the floor to start. As we build towards bigger & fuller movement, across the floor patterns will focus on one theme at a time and contribute to our final phrase. The Laban effort graph will be a leaping off point for improvisation and referenced in repertory class as well.
GROUNDED with KRISTIN WAGNER
Designed with the intermediate to advanced contemporary dancer in mind, the foundation of this class is rooted in Elizabeth Gilbert's philosophy regarding the paradox of art: everything matters, and nothing matters. We use the tension of this philosophy to break through self-censorship and harmful criticism to an empowered dance experience that values refining an authentic voice above perfecting virtuosity. The class begins with a grounded warm up focused on lengthening and loosening the spine, unlocking the head and the tail, and building heat in the center. Floor work patterns are offered alongside some humor and a persistent request to make the movement what it is in your body. A culminating phrase weaves together spinal fluidity with detailed and nuanced gestural movement for a simple but sweet expression of humanity. Please consider your comfort with coming in and out of the ground, taking weight in your hands, and inverting when deciding if this class is right for you.
About the Instructors:
Rachel Linsky is a Boston-based contemporary dance artist. She holds a B.F.A. in Dance Performance and Choreography and a B.A in Arts Administration from Elon University where she graduated summa cum laude. Rachel directs and choreographs ZACHOR, an ongoing project series that seeks to preserve the words of WWII Holocaust survivors through dance. Rachel's choreography has been presented in national and international dance festivals such as Earl Mosely's Diversity of Dance "Dance is Activism Film Festival", Boston Contemporary Dance Festival, Prague International Film Festival, and many more. Her work has been awarded funding by the New England Foundation for the Arts, The City of Boston, The Russell J. Efros Foundation, Combined Jewish Philanthropies, and The Beker Foundation. Rachel has been an artist in residence at the Boston Center for the Arts through their new Dance Maker's Laboratory Program, and at Chelsea Theatre Works. Rachel was recently commissioned by the Museum of Fine Arts Boston and the Jewish Arts Collaborative to choreograph a new work for their 2021 Hanukkah celebration. Rachel is currently a dancer with KAIROS Dance Theater and The Click Boston. She is on the teaching faculty at Koltun Ballet Boston, Broadway Bound Dance Center, and Urbanity Dance.
Audrey MacLean is a Boston-based dance/performance artist. Since graduating from Connecticut College, Audrey has had the pleasure of performing throughout New York and New England in work by Jimena Bermejo, Peter DiMuro, griffindance, Heidi Henderson, Grant Jacoby, Annie Kloppenberg, Betsy Miller, Ruckus Dance, and shovegentlydance. Audrey's own work has been presented through Green Street Studio's New Works program, The Dance Complex's aMaSSiT program, as part of DanceNOW Boston at ART's Oberon, and was featured on CPTV's Spotlight on the Arts. In the spring of 2016 she co-produced and curated an evening of short dance/performance work titled "Dance Shorts" which brought together eight Boston-area choreographers. Aside from her own choreographic pursuits, Audrey has served in administrative roles for The Dance Complex, Green Street Studios, and Moving Target Boston. Audrey has also been a guest teacher in both technique and composition classes at: The College of the Holy Cross, Berklee College of Music, Moving Target Portland, Moving Target Boston, Rising Tide Charter School, and Wilmington Dance Academy.
Alexandria Nunweiler is a contemporary choreographer, performer, administrator and educator based in Boston, MA. Her movement, described by Dance Informa as "grace with power," is rooted in history, human experience, and the fine line between darkness and humor. Alexandria earned her B.A. in Dance from Winthrop University where her thesis "Valhallveien" represented the university at the American College Dance Festival Southeast in 2014. She also holds her MSc in International Business from Hult International Business School, studying in both Boston, MA and Shanghai, China. As a choreographer, Alexandria's work has been featured up and down the east coast in the Philadelphia Fringe Festival, BOOM Fringe Festival, Dance Complex's A Drop in the Bucket, NACHMO Boston, and the Charlotte New Music Festival Dance Co-Lab, among others. She also co-produces the annual series 'CURE8' alongside collaborator Ashlea Sovetts, which premiered in 2022 in Cambridge, MA. Alexandria's work has been funded through New England Foundation for the Arts, the South Carolina Arts Commission and Alternate ROOTS. In performance, Alexandria works within The Click, performing in works devised by Kristin Wagner, (Survival Aesthetics) and Lonnie Stanton (Emotive Land)and with the Alive Dance Collective as the Director of Development, performer and choreographer. Her past performance work has been alongside Brian Feigenbaum, Tony Guglietti, THE MARK dance company, Martha Connerton/Kinetic Works, and staibdance. As an educator, Alexandria holds space for intuitive learning and dives deeply into improvisation as a mode of movement understanding. She currently teaches at Creative Steps Dance Studio in Newton, MA and is a recurring guest artist at Dance Theatre of Greenville in South Carolina. Alexandria also holds her 200 RYT which she brings into both the yoga and dance practice spaces as a framework for how she shows up.
Lonnie Stanton is a proud native Hawaiian raised in rural Northern California and based in Boston. For the last decade Lonnie has been committed to dance education with a strong somatic focus as well as a professional contemporary performance career. She graduated from the Boston Conservatory with a BFA in Dance (2009) and has completed her 200 hour yoga certification through Yogaworks (2011). For 10 years she worked with Prometheus Dance performing and teaching with the company. Lonnie is a freelance dancer performing with Jean Appolon Expressions, Peter DiMuro/ Public Displays of Motion, Callie Chapman, Lynn Model, and BeHeard.World. During her time dancing in NYC, she worked with Kinesis Project Dance Theater focusing solely on site specific performance. Stanton is passionate about sharing dance in unconventional, often outdoor spaces where a broad audience can be reached. She has produced and structured dance for film or public space for the American Repertory Theater, Somerville Arts Council, Neoscape (advertisement), Tamara Al- Mashouk, Silvi Naci, Moe Pope, Linda Tegg, and Toni Lester (all visual or sound artists). Stanton is on faculty at the Boston Conservatory at Berklee, The Harvard Dance Center, and Deborah Mason School of Dance. Bringing dance education into public schools through Notes in Motion, New York City Ballet, and Boston Ballet has been especially rewarding to Lonnie.
Kristin Wagner is a movement enthusiast living, learning and growing in the Greater Boston area. Since 2012, Kristin has been performing with a number of local contemporary dance theater companies and freelance choreographers, most notably: KAIROS Dance Theater, for whom she serves as Rehearsal Director and Principal Dancer, and Peter DiMuro/Public Displays of Motion. As "Decent Dance", Kristin - with partner Tony Guglietti - creates accessible contemporary performance works that dabble in comedy, dramedy, and all things silly, sweet and true. Kristin also creates work independently and as part of "The Click". She has also implemented educational programming and structural administrative systems for a number of established and influential community dance institutions, most notably The Dance Complex, and now, primarily, for The Click. In her administrative work, Kristin is motivated by the mission to make the experience of movement more financially, emotionally, intellectually, and physically accessible for students, performers, and audiences alike. With a passion for supportive, rigorous, and eclectic dance education, Kristin has shared these philosophies and more with students ranging from youth to adult in competitive, pre-professional, and collegiate environments across Massachusetts. In all that she does, Kristin is guided by the belief that authentic, uncensored movement can be a pathway for personal growth, authenticity, and healing. She is fiercely femme-focused and painfully Type A, plays mom to cat Lilah and puppy Lola, and inappropriately (but lovingly) inserts herself as co-parent to her niece and nephew, Jamie and Owen.
About The Click:
Developed in 2021, The Click is a collaborative dance company and creative collective in Greater Boston. Its members are dancers whose primary medium of physical expression is through contemporary dance forms, but who experiment in many modes and genres of creativity. As a collective, The Click's members are each deeply invested in answering the universally complex question: who am I and what am I doing here?
The Click contributes to the consistent presence of creativity in Boston and beyond in several ways: by educating pre-professional youth dancers, professional adult dancers and the dance-curious of any age; performing original creations several times a year at traditional and non-traditional venues across Massachusetts, New England and beyond; and by investing in the curiosity of those new to dance in Boston or new to dance in general by maintaining an open, inclusive and accessible community.
Follow us on Instagram: @the.click.boston