Description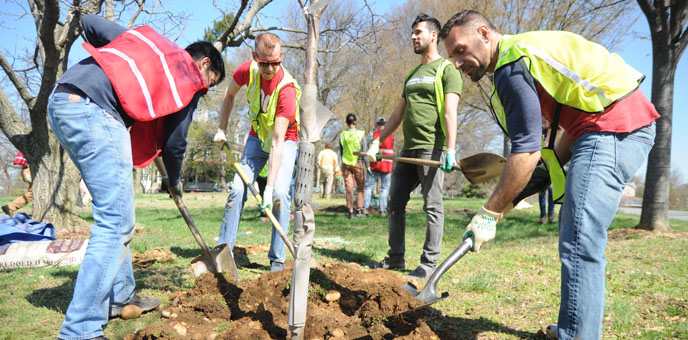 Do you want to play a greater role in re-treeing D.C.? We'd love for you to become a Citizen Forester Team Leader.
This season we will be planting more trees than ever before and we need your help!
Attending this class is the first step in becoming a Citizen Forester Team Leader and will equip you with the skills needed to lead others in planting trees at future events. After you take the workshop, volunteer to plant at a minimum of two (2) Community Tree Plantings in the same season as the workshop under the guidance of a mentor. Pass with flying colors from your mentor and we will graduate you to a full-fledged Citizen Forester Team Leader!
The foundation for a tree's health and longevity is established the day it is planted. You will learn how to prepare a tree planting site and properly plant the tree to ensure its survival as well as the techniques critical to maintaining tree health including mulching and watering.
After the classroom session team leader candidates will break into groups and practice their new skills as we plant trees and add more tree species diversity to American University's arboretum.
---
Who Should Attend?
Open to the general public for anyone interested in learning how to plant trees or becoming a Citizen Forester Team Leader.
Requirements
Registration. To ease the registration process, please bring a completed volunteer waiver form with you to the planting. If you do not have access to a printer, we will have some waivers on hand.
Youth Volunteers. Volunteers under 18 years of age must have their parent or legal guardian sign their consent form and be supervised by an adult at all times. Please note you must be over 18 years of age to become a team leader.
No specific skills required. Each event starts with a tool safety and planting demonstration. Volunteers plant alongside experienced Citizen Foresters and staff.
Arrive on time. Check-in opens a half hour prior to the indicated start time.
Dress comfortably and appropriately for the weather.
Closed toe shoes and long pants are required. Boots are preferred over sneakers.
Animals. No animals are allowed into the event, except for service animals.
Meals

All attendees will be provided with a light breakfast and lunch. Please note your dietary preferences and/or allergies when registering so we can attempt to accommodate your needs.
Getting There
Parking: Parking garage is located underneath the School of International Service and parking is free on the weekends.
Public Transportation: The closest Metro stop to American University is Tenleytown/AU on the red line approximately 1 mile away.
Bike Parking: Bike parking racks are available in the garage next to the elevators in the terrace level of the School of International Service.
Continuing Education Credits
ISA Continuing Education Credits pending.

---
Support Casey Trees
Become a Casey Trees Member today and receive some incredible perks and benefits - all while doing your part to help build a greener place to live for us all. Casey Trees relies on the support of friends, neighbors and volunteers like you to make our work possible. Thank you for your help!