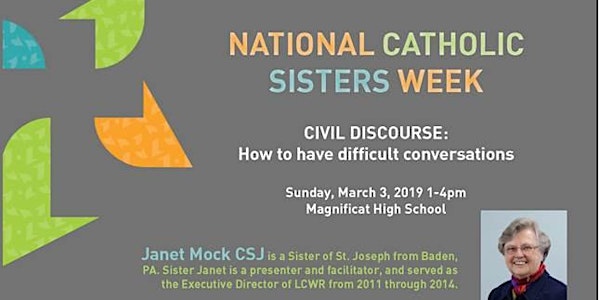 Civil Discourse: How to have Difficult Conversations (National Catholic Sisters Week event)
When and where
Location
Magnificat High School 20770 Hilliard Blvd Rocky River, OH 44116
Description
Gather together for an afternoon on the topic of having difficult and civil conversations ?from 1:00-4:00pm on Sunday, March 3, 2019, as part of ?National Catholic Sisters Week 2019.
All are welcome, with a special invitation extended to Catholic sisters, associates, lay collaborators, and young adults in their 20s and 30s.

Light refreshments provided throughout the day.
This event is free, through a generous grant from National Catholic Sisters Week.
RSVP is requested through Eventbrite.
National Catholic Sisters Week celebrates the vital contributions of women religious in our church and our community. Join the celebration by participating in events or engaging online. Visit www.nationalcatholicsistersweek.com