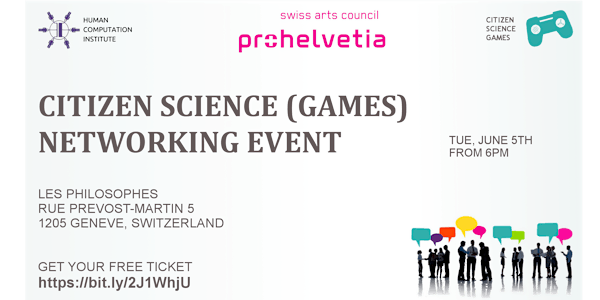 Citizen Science Games - Networking event
When and where
Location
Les Philosophes 5 Rue Prévost-Martin 1205 Genève Switzerland
Description
Citizen science games are games that allow players to contribute to real scientific research, without any scientific background. They are games in which players provide valuable data or solve complex scientific problems. They also help with diagnosing and curing diseases, as well as answering important research questions. A few examples include Foldit, Quantum Moves, EteRNA, and Project Discovery in EVE Online.
Are you running a citizen science project and thinking of adding game elements to it? Do you want to turn a scientific problem into a game? Are you developing a game and want to add some real science to it? Or are you simply curious about citizen science? Join us for this networking event and meet with people who have worked on citizen science games. This will be a great occasion to share experiences and to discuss possible collaborations.
Keynote speaker: Jennifer Couch works closely with colleagues across the NIH to support citizen science and crowdsourcing projects which bring new expertise and insight from the public into diverse research areas. Dr. Couch also works with the Federal Community of Practice for Citizen Science and Crowdsourcing to coordinate and share citizen science methods and resources. She will talk about how games fit into the big picture of open innovation and how critical effective partnerships are to these projects. She will draw examples from the diverse collection of research and science games, highlighting some lessons learned watching the development, launch and expansion of these games in the past few years.
The event is hosted by the Human Computation Institute, which developed Stall Catchers. Thanks to our sponsor, Pro Helvetia, we will be offering finger food. There will also be a free drink for our first 40 participants.

###
More info about the event and possible participants on our website: ecsa2018.hcinst.org