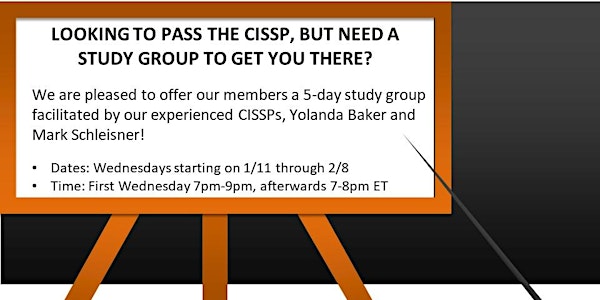 CISSP Study Group
2023 CISSP Study Group for ISC2 NJ Chapter Members
About this event
The (ISC)2 NJ Chapter is holding a comprehensive CISSP Study Group on five consecutive Wednesdays, from January 11 to February 8, 2023.
The Study Group schedule will be as follows:
Jan. 11: (7pm-9pm) Exam prep tips and resources + Domain 1
Jan. 18: (7-8pm) Domains 2 and 3
Jan 25: (7-8pm): Domains 4 and 5
Feb. 1: (7-8pm) Domains 6 and 7
Feb. 8: (7-8pm) Domain 8 + final exam Group Q&A
Mark Schleisner, CISSP and Yolanda Baker, CISSP will be proctoring and guiding Q&A for each domain section. The curriculum will follow the CISSP Official Study Guide, 9th Edition ($47.49 on Amazon).
This Study Group is FREE to all ISC2 NJ Chapter members. Come prepared to share your own favorite resources and tips!