Circa Survive: Blue Sky Noise 10 Year Anniversary Tour
About this Event
General Admission * Standing Room Only * If Any Seating Is Available, It Will Be On A Strictly First Come-First Serve Basis * All Ages * Additional $5 Cash Surcharge At The Door For Under 21 * Attendees Under 16 Must Be Accompanied By A Ticketed, Adult Guardian
Circa Survive - The Amulet - Biography
Modern bands often seem faced with the choice between being challenging and being accessible. These ideas tend to be presented as opposite poles, two irreconcilable objectives that cannot co-exist without one taking precedence over the other. The time where unabashedly unconventional bands could engage the masses has long since past and those heavyweights have been relegated to the shelves of "classic rock," with high concepts and grandeur replaced by irony and painful self-awareness. But for Circa Survive there exists another option, one where huge ideas and unbridled imagination can commingle with nuance and vulnerability. In their world, this dichotomy is not only achievable, it's essential, and it fuels the band's dauntless sixth full-length, The Amulet.
From the release of their 2005 debut, Juturna, to their 2010 major label release, Blue Sky Noise, to today with The Amulet, Circa Survive has made a career of turning all of the things that make them difficult to categorize into their greatest strengths. The word "progressive" is often used to describe their sound, and while this term doesn't really do justice to the band's distinct identity, it does conjure the scope and ambition of those iconic bands from decades ago, the ones that managed to capture the attention of mainstream audiences without sacrificing their esoteric tendencies. On The Amulet, Circa Survive continues this legacy, but filtered through the unique lens of their punk and alternative roots. Drawing on the raw power of punk and post-hardcore, the earnestness of emotional alternative, and the unrestrained experimentation of art rock, the band effortlessly creates a sound that can be compared to very few, but appeal to many. The Amulet's mix of intricate guitars, muscular bass, and interlocking drums creates a dynamic foundation for vocalist Anthony Green's unparalleled voice; however, the magic of Circa Survive isn't just technical skill, it's an ability to blend that technicality with undeniable sense of melody and hooks. It's this focus on uncompromising yet satisfying songwriting that compels listeners, no matter their genre-of-choice.
Circa Survive's sonic palette isn't the only thing with which the band fearlessly experiments. The band's use of overarching lyrical concepts from album to album has become just as pivotal to their identity. For Green, no idea is too big or too small, and everything can be explored with the same mix of wonderment, dark fascination, harrowing honesty, and hope. The Amulet pushes this approach to a demanding new level as Green examines parallels between the world ending, our chaotic social and political climate, and the very intimate strain of personal upheavals. A loss of innocence ties these drastically different threads together: a sense that certain events can irreparably change our perspectives and make it impossible to view our world, our governments, or our personal lives through the same rose colored glasses. Although many of the album's themes are dark and formidable, there is a sense of hopefulness
that shines through The Amulet. Death is tied to birth, unrest is tied to revolution, emotional pain is tied to personal growth, and the only way to reach catharsis is to first lean into the storm. The Amulet is meant to be a tangible manifestation of that catharsis, the kind of relief that comes from accepting the pain of loss—personal, socio-political, and cosmic—and moving forward. These themes even apply to the band itself with Green saying, "the way the band was when it started is dead and this record feels like a bit of a rebirth in a lot of ways. Time has just weathered us, we got through the hard times and came out the other end, and I feel like this is the pinnacle of the band personally and creatively. It's the most clear and concise version of what we are."
After 13 years as a band, Circa Survive are no strangers to pushing sonic and lyrical boundaries, yet The Amulet still finds the band diving even farther into the deep end, pushing themselves to create brand new sounds, and taking on ideas that stretch from the universal to the most personal. In a musical landscape that seems predisposed towards instant gratification, Circa Survive may appear to be made from a mold that no longer exists, but fitting with modern bands or icons of the past has never been their goal. Circa Survive dares to ask more of themselves and their listeners—old and new— and in return they offer a soundtrack for the bold, the sincere, and the inquisitive.
Blending technical, weaving instrumentations with hip-hop, jazz and R&B influenced grooves, Polyphia has created a massively impressive sound that is all their own.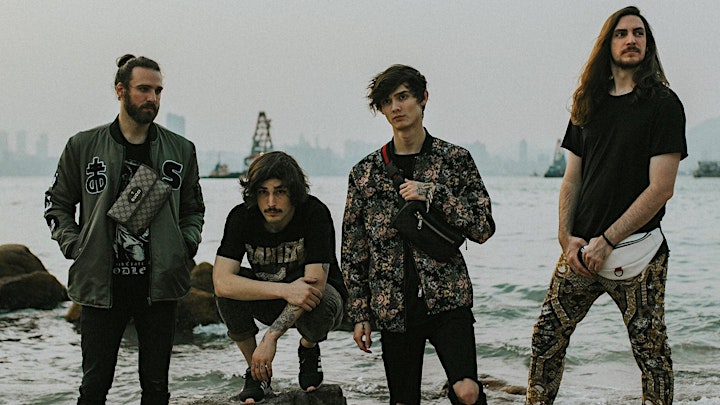 What started as an outspoken hardcore band around 2013, has mutated into an angular blend of sass and spitefulness. Taking cues from bands of yesteryear such as Unwound, The Jesus Lizard, and Fugazi, we find Gouge Away pulling no punches.
Vocalist, Christina Michelle, comes with a deeper introspection on struggles with mental health, not holding back with this incredibly personal outpouring. Guitarists, Mick Ford and Dylan Downey, bring a dissonance to their sound that separates the listener from what could be expected while the rhythm section made up of Tyler Forsythe and Tommy Cantwell aggressively keep the songs in place.
The Florida born five-piece recently recorded their Deathwish Inc. debut with Jack Shirley at Atomic Garden (Deafheaven, Oathbreaker, Jeff Rosenstock) which was co-produced by Jeremy Bolm of Touche Amore. Burnt Sugar appeared on many Best of 2018 lists including those by Revolver, Stereogum, AV Club, NME, and Brooklyn Vegan.
Having shared the stage with bands such as Touche Amore, Ceremony, Culture Abuse, Drug Church, Daughters, G.L.O.S.S., Thursday, Paint It Black, and Russian Circles, the band has no plans of slowing down anytime soon.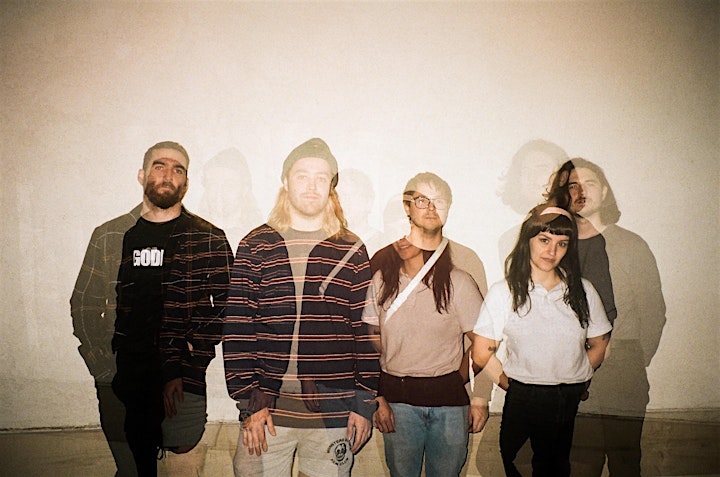 Performers
Date and Time
Location
Refund Policy