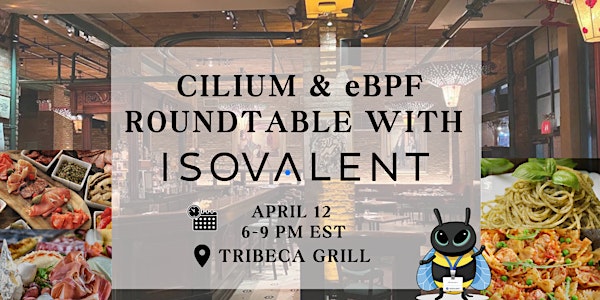 Cilium and eBPF Roundtable with Isovalent
Let our team of experts show you how valuable eBPF can be & how you can use Cilium to solve your networking, security & observability needs.
Date and time
Wednesday, April 12 · 6 - 9pm EDT
Location
Tribeca Grill 375 Greenwich Street New York, NY 10013
About this event
In this age of distributed systems how can you tell what's happening at the network layer?
Will a service mesh help you understand and troubleshoot your environments?
Can you verify your workloads are secured?
How do you know what is really going on in the environment?
...Luckily, Cilium can help!
Join Isovalent for a round table and presentation around Cilium and eBPF. Come meet with our Christopher Luciano, Sr. Solutions Engineer & Duffie Cooley, Field CTO of Isovalent, where he will give an overview of Cilium and eBPF. Then, let's have a discussion about how we can help solve for security, advanced networking and observability use cases in your container environments during the roundtable portion of the evening.
We hope you and your peers can join us for this event to start a discussion and help demystify what eBPF can do and what we at Isovalent have been doing with with it!
See you onsite.
Agenda
6:00 PM - 6:30 PM
Welcome & Networking
6:30 PM - 6:45 PM
Introductions & Food Display
7:00 PM - 7:45 PM
Presentation: Cilium & eBPF overview and Q&A
7:45 PM - 8:00 PM
Networking + Food & Beverage
8:00 PM - 8:45 PM
Round Table discussion: What is eBPF and how can I use it to solve problems?
8:45 PM - 9:00 PM
Closing