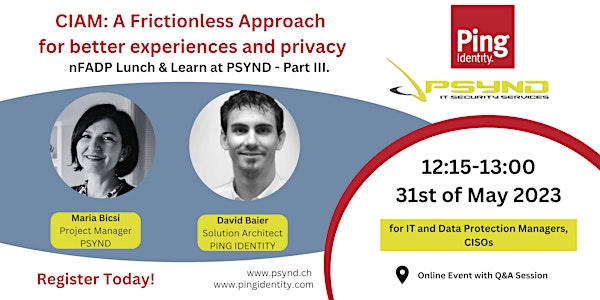 CIAM: A Frictionless Approach for better experiences and privacy
Customers want it all, convenience, security and privacy in every digital experience.
Date and time
Wednesday, May 31 · 3:15 - 4am PDT
About this event
Finding the perfect balance with those three for your business is challenging, but not impossible. Customer identity and Access Management (CIAM) can help you design and optimise user journeys that not only span across all of your digital properties but are frictionless, secure and compliant with privacy regulations.
Join this session hosted by Ping Identity and PSYND to hear more about CIAM and how it solves challenges like data regulation !
PROPOSED AGENDA:
12:15-12:30 : Opening Presentation by Maria Bicsi
12:30-12:50 : PingIdentity solution to achieve compliance based on use cases with GDPR
12:50-13:00 : Q&A
ABOUT THE SPEAKERS:
Mária Bicsi is a PRINCE2 certified Project Manager with broad experience in multinational environments. She earned a Bachelor Degree in Economics and just one year later in Psychology, followed by a Master Degree in Human Resources. She believes in continuous learning, and she developed her skills in the latest years in the Cybersecurity field. Currently, she works at PSYND as Project Manager specialized in Identity and Access Management (IAM) and Privileged Access Management (PAM). Moreover, she provides Cybersecurity Awareness Training and speaks in several conferences and events. Mária is the co-founder and community manager at the Swiss-CyberSecurity Association, which was founded to raise awareness and facilitate the professional growth of IT Managers and Cybersecurity Experts. She initiated the "Zero-Day" Conference, the largest CyberSecurity Strategy conference in Geneva
David Baier - Since 2022 David Baier is part of the EMEA solution architects team. David uses his over 10 years experience in IT sector and Digital Transformation to help prospects find their fitting solution with Ping Identity's SaaS or Software products. During this process he consults prospects, implements demo applications on use cases and delivers help whenever is needed in the pre-sales process. Before joining Ping Identity David was working for Weidmüller as an Automation Software Engineer helping customers optimizing their automation processes.
Registration is mandatory and will be valid ONLY with a written confirmation received from the organizers.
At Ping Identity, we believe in making digital experiences both secure and seamless for all users, without compromise. That's digital freedom. We let enterprises combine our best-in-class identity solutions with third-party services they already use to remove passwords, prevent fraud, support Zero Trust, or anything in between. This can be accomplished through a simple drag-and-drop canvas. That's why more than half of the Fortune 100 choose Ping Identity to protect digital interactions from their users while making experiences frictionless. Learn more at www.pingidentity.com.
PSYND is PingIdentity's partner in the Swiss Romande.
PSYND is a Swiss IT Consultancy Company based in Geneva focused on Cyber Security Strategy helping its customers to shape the best cyber protection plan, choosing the right solutions for them aligned with their resources, budget and time-frames.
On top, PSYND is the only (ISC)2 Official Training Provider in Switzerland preparing students for the CISSP, HCISPP, CSSLP and CCSP exam. www.psynd.ch
About the organizer
We are building a community of Cyber Security experts end enthusiasts where we can exchange ideas, we can grow professionally and we can get in touch with the community members.
Feel free to contribute with articles or comments, launching questions on this platform! We organize both formal and informal meetings with Cyber Security topics. You are welcome as attendee or speaker!
For more information check out our webpage: www.swiss-cybersecurity.ch
Be part of it!