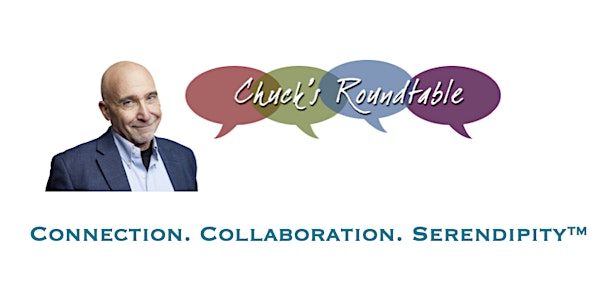 Chuck's Global Entrepreneurial Roundtable Hosted by Chuck Goldstone
A GLOBAL COMMUNITY OF INNOVATORS
About this event
Sharing ideas. Helping Ourselves. Helping Others.
About this Event
CONNECTION. COLLABORATION. SERENDIPITY ™
Today, connection and community are more important than ever before. Each week, we bring together entrepreneurs, thought-leaders, mentors, investors from across the globe to share ideas, practices, resources. Chat about common challenges. Enjoy insights. Offer support.
JOIN US. A COMMUNITY ROUNDTABLE
We chat with kindred others. Learn from peers and global thought-leaders.
No cost except your time and willingness to share with others like yourself.
RESULTS = EXTRAORDINARY
The mix of people and ideas has been impressive. From it has come new opportunities, ideas, and serendipitous collaboration. Attendees roundly proclaim it an immensely valuable resource. The roundtable been responsible for thousands of connections, referrals, funding leads, jobs, and other assets to success.
WEDNESDAYS at 1:00-2:30 ET Come once-a-week or once-in-a-while. Register early
GROUP SIZE LIMITED!!! So register early. .Sessions limited to the first 30. But if you register and cannot make it, BE SURE TO CANCEL!
Register below or go to www.chuckgoldstone.com
ZOOM LINK WILL BE SENT TO YOU.
Stay safe. Stay well.
JOIN US!!!!!!
Location
Online Event
Important Notice: These sessions are recorded and may be rebroadcast, used, or published in whole or in part at a later date. By attending the Roundtable, you consent to your image and voice to be recorded.